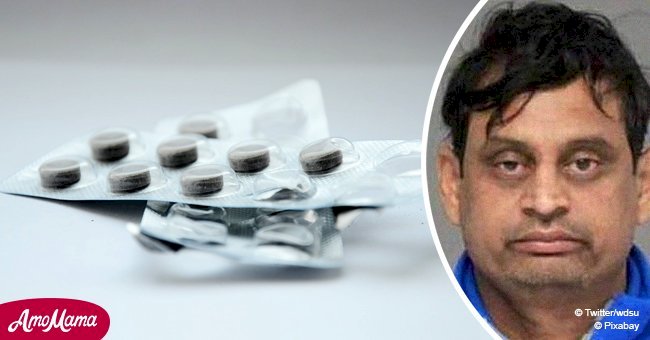 Man will spend next 22 years in prison for slipping abortion drug into pregnant girl's drink
The law caught up to Manishkumar Patel after he turned his pregnant girlfriends drink into a deadly weapon, earning him 22 years in prison.
The woman, who remains unnamed, had known 45-year-old Manishkumar Patel since 1999 with whom she occasionally had a relationship with. In 2004 they had a child together, however, Patel denied being the father, two years later in 2006 the woman had a miscarriage followed by another pregnancy in August 2007.
Source: NBC26
This time Patel promised to commit to her and their unborn child, but when the family went to a downtown Appleton restaurant on September 17, 2007, Patel got out to buy them smoothies while they waited in the car. The woman saw him pour a smoothie into two cups which he then stirred before returning to the car.
Read more on our Twitter account @amomama_usa.
Source: NBC26
She didn't drink the smoothie and later noticed powder inside, and after asking employees about it they assured her they do not put powder in their smoothies, she had a miscarriage on September 30, 2007 and sent the powdery substance to a laboratory in California and confirmed it was a substance called RU-486, also known as an abortion drug.
The woman got a restraining order against Patel and on November 28, 2007, police searched Patel's house and found an envelope containing pills which turned out to contain the substance RU-486. Patel got arrested and charged in November 2007 but forfeited a $750,000 cash bond when he fled the country.
Almost a decade later he got arrested in New York in January 2017 and convicted in August the same year of attempted first-degree intentional homicide of an unborn child and sentenced to 22 years in prison.
Patel spoke during his sentencing admitting to obtaining the drug which he shipped from India and giving it to his girlfriend when she was pregnant with self-justification that stemmed from them already having a child that required lifelong medical care, not wanting another child to suffer the same fate and added:
"I have had plenty of time to think about what I did. I have no excuse or explanation for my actions."
He claimed his return to the country after almost a decade in India got brought on by wanting to resolve the matter before the court and said:
"I made the decision to return, even though I knew it would cost me my freedom."
Illegal actions of another kind surfaced on social media earlier this year when 19-year-old Kameisha Denton got fired from her job at Jersey Mike's Subs for being pregnant. She had informed her manager of her pregnancy and said she would take off four weeks later that year when her baby arrived. She claims the manager texted her back and said:
"Hello I am sorry to inform you but it's not going to work out with Jersey Mike's. It's not a good time for us to have someone who is leaving for maternity leave in several months anyway. You also failed to tell me this during our interview. Good luck to you."
Shocked at his response she decided to post a screenshot of his reply on Facebook and got hundreds of responses of advice and disgust at what happened. Tim Trieb, the franchise's owner called Denton and apologized offering her the job back, but she declined. Denton has since been flooded with employment offers and commented on her experience:
"I look at it as a blessing. It's OK to speak up, a lot of people think this is OK when it's not."
Some business owners have a different view on what their employees mean to them, as shown on a recent video from an episode of the popular show The Profit, where the host Marcus Lemonis, self-made millionaire and serial entrepreneur helps struggling small-time businesses.
Tami Forbes a pregnant employee at the company, already working two jobs to support her children, got rewarded for her hard work and dedication to the company when Lemonis offered her a raise to $1000 a week and six month's salary before going on maternity leave.
According to Lemonis taking care of employees is a vital part of any business strategy as it builds loyalty and increases productivity, ultimately benefiting the business.
Please fill in your e-mail so we can share with you our top stories!