Ray J heats up talk after debuting blond hair
Ray J is sporting a new look and before fans could further joke about it, he shared a video explaining what it's all about.
Ray-J debuted his newly-dyed blonde hair a few days ago as he shared a photo of him toting his daughter Melody in one hand. The little girl looked adorable in her pink onesie and curly hair, but so did his father matching her in pink but with visibly blonde hair. 
The photo which Ray-J simply captioned with the hashtag #Twins drew attention for the glaring fact that the singer was sporting blonde locks alarming fans of a Kanye vibe. In fact, one fan mistook the R&B singer for the rapper and didn't quite appreciate the hair change.
"Dijon mustard. No lie thought this was Kanye. Why is he holding the baby like that? Hair Color Gotta GO. Tell them to dye yo eyebrows blond too I like Ray j, and the pink sweatsuit is unbelievable stylest alert!!!! Do a Love & Hip Hop joke. Do Melody know you are her father with blond hair!! Ray J and Princess Your daughter is Beautiful!"
Two other fans echoed this and wrote,
"This would have been a completely normal picture had his hair been black. Why you look like you're going out for the 2019 version of #MeteorMan @rayj This dude Kanye looks different. Blonde not your color baby!!!"
"Oh no, you bleached your hair like Kanye I hope the bleach doesn't go to your brain like it did him and you go crazy as he did lol Lord, please dye that [expletive] back black. Unless you will make money n a minute @princesslove, please tell yo hubby to dye it black blk Look too A1 ishhhhh@rayj baby is adorable. 2019 black men dying their hair blonde is banned.. is OVA!!"
Clearly, fans weren't buying into Ray-J's blonde do. So before things got any further, the singer took to his Instagram once again and clarified one thing – the gold locks are part of a project he was currently doing. 
In a video clip he shared, he explained that he was doing a futuristic commercial for Raycon Global and he was portraying a futuristic character from 2800. 
"Let me break this down. I'm doing a campaign, it's a commercial where it's in the future like 2800 and I'm the futuristic me." 
"It's in the future so that's the thing. I just wanted you all to know what this gold hair was for."
Before he ended his clip where he seemed to be observing himself in the mirror while speaking to his fans, Ray-J proved what a sport he was when he said,
"Now, continue with the jokes."
The jokes kept on coming for Ray-J ever since his friend and co-star Safaree Samuels posted a photo of the two of them during a shooting for the reunion of their show "Love and Hip Hop: Hollywood." Most of the fans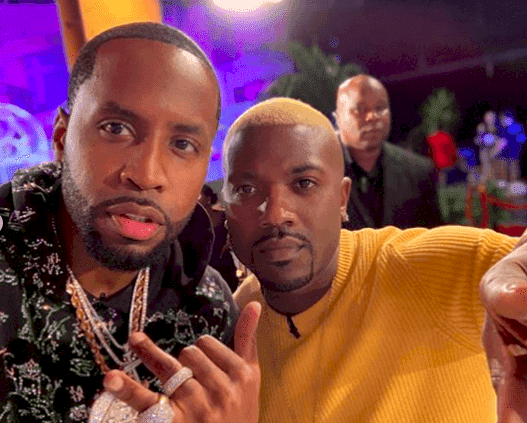 as they threw jabs at the singer.
"Alright now Kanye"
"Please tell me he is just trolling Kanye."
"Kanye did it first."
Kanye sure did it first. The rapper who's married to Kim Kardashian debuted gold locks in 2016 after checking into a hospital due to a breakdown. As he made his first public appearance since leaving the hospital, he sported the new hair color and elicited a slew of memes pertaining to the change.  
Kanye has also been getting a lot of flak lately for his being vocal of his support for President Donald Trump. He recently sat down for a meeting with the president and the two clearly got along. Kanye expressed how much he loved Trump while the US president described the rapper as a "smart cookie" who "gets it." Social media including Kanye's peers have been abuzz with reactions to the singer's latest remarks, slamming him and claiming his "meds are NOT working."
"I love this guy right here."

Kanye West hugs President @realDonaldTrump during a meeting in the Oval Office. https://t.co/FYu67S3PMm pic.twitter.com/Cpb4PQhTx9

— Fox News (@FoxNews) October 11, 2018
Let's hope Ray-J doesn't get this kind of flak after turning blonde.