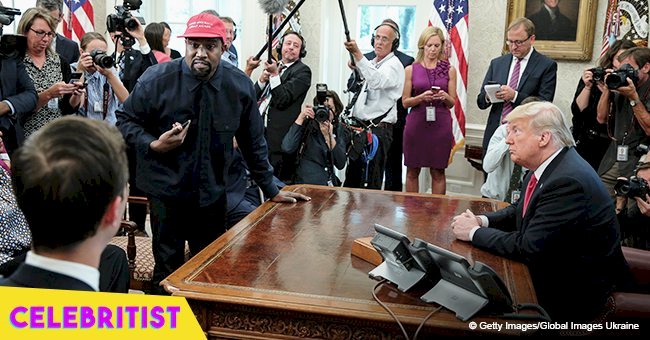 Kanye West slammed after telling Trump he was misdiagnosed with bipolar disorder
Kanye West came under fire after telling President Donald Trump that his bipolar disorder diagnosis, which he confirmed this past summer, was a mistake. West also touched on Hilary Clinton and a variety of other topics during the bizarre Thursday meeting.
West, 41, has repeatedly been criticized over his support for the equally controversial Trump, but the "Yeezy" designer is not backing down. He sat down for a meeting with the president in the Oval Office, where he revealed that he was "misdiagnosed."
"I was connected with a neuropsychologist that worked with athletes in the NBA and the NFL. …He said that I actually wasn't bipolar, I had sleep deprivation, which could cause dementia 10 to 20 years from now where I wouldn't even remember my son's name."
Clad in a "Make America Great Again" hat and Yeezy boots, the "Life of Pablo" rapper also claimed that the doctor found him to have an IQ in the 98th percentile.
During the conversation, West referred to his displeasure with Hillary Clinton's 2016 election campaign, implying that her slogan, "I'm With Her" alienated him.
"I love Hillary," he said. "But the campaign 'I'm With Her' just didn't make me feel, as a guy that didn't get to see my dad all the time, like a guy could play catch with his son."
The #MAGA hat evokes a different feeling because West insisted:
"There was something about when I put this hat on, I feel like Superman. You made a Superman. That's my favorite superhero. And you made a Superman cape for me."
At some point during the meeting, West crossed over to the sitting POTUS, saying: "I love this guy right here. Let me give this guy a hug right here.
The father-of-three, who is married to reality star Kim Kardashian went further to make comments that are sure to get his fans more upset. Referring to racism as a tool in the hand of liberals, West explained:
"A liberal will try to control a Black person through the concept of racism because they know that we're a very proud, emotional people. So when I said I'm like Trump to someone that's liberal they'll say, 'Oh, he's racist.' You think racism can control me? Oh, that don't stop me, that's an invisible wall."
In a weird twist, West also proposed a new design for the nation's Air Force One, even going as far as passing his phone around with a photo of the iPlane1, "what our president should be flying."
"Get rid of the Air Force One," an amused Trump then joked.
At the end of the monologue, Trump gave his sign of approval, calling it "pretty impressive" and "quite something." The president added that West "can speak for me any time he wants. He's a smart cookie. He gets it."
Meanwhile, social media has been abuzz with reactions from people who have been slamming West over his remarks.
"Wow...Was this real life or did SNL start running skits on Thursday?" one Twitter user asked sarcastically.
Another quipped: "Proving once again that his meds are NOT working."
CRITICISM FROM COLLEAGUES
West has also been criticized by many of his colleagues, including legendary rapper, Snoop Dogg. During a recent radio show appearance, Snoop went off on West for being an avid Trump supporter, saying:
"When you drew the line and start pointing [expletive] out and singling them out, [expletive]. You and them. Kanye too. Don't forget about him too… Throw him in the bag, he right with them [expletive]."
Please fill in your e-mail so we can share with you our top stories!