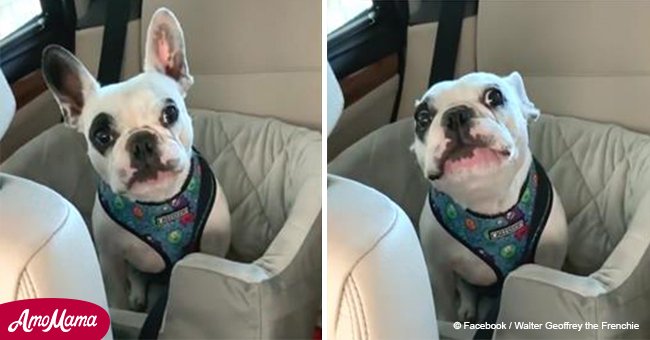 Girl explains to dog why they won't go for a walk and her pet's reaction is hilarious
Amber, from Austin, Texas, tried to explain to her bulldog named Walter Geoffrey why they couldn't go to the park. However, the pooch was not having it, and his funny reaction rapidly became a web sensation.
In the viral Facebook post, Walter can be seen talking in no uncertain terms how upset he is. He begins making noise, complaining his owner's decision.
The canine's antics are entertaining, and the commotions he makes are a blend of charming and irritating.
Walter at that point changes to a lower and angrier tone after raising a ruckus with his high pitched noises.
Follow us on our Twitter account, @amomama_usa, to learn more and scroll down to watch the video below.
When Amber finally gets the bulldog's attention, she instructs him to quit interfering with her. But when she calls his name aloud, the fed-up Frenchie roars at her.
"I told you why we can't go to the park," Amber can be heard saying in the video.
Walter's ears perk up when she says stop. He also stops his whining.
Then Amber clarifies why he wasn't going to the park.
"They're spraying for bugs. That's why we can't go," she tells Walter.
Amber then criticizes him for being so discourteous. The little black and white pup drops his head with guilt and gazes at the ground.
"You really need to think about how you talk to me. You're disrespectful without even knowing my reasons why and you talk over me."
The post on Facebook has amassed over 21 million views since it was posted three weeks ago.
One user wrote, "I love how as soon as she said 'I told u why we couldn't go to the park' he actually stopped and listened."
"Can we take a moment to love his sweet sibling for trying to comfort him like 'Walt you're gonna make it worse stop before you get in trouble. It's ok,'" added another user.
In another adorable footage, a guilty bulldog, whose name is also Walter, can be seen admitting to biting the remote control after being questioned by his owner.
When Danielle Lou, from Wigan, found out that her TV remote had been extremely chewed, she asked Walter, "Who did this Walter? Who did this?"
The poor little guy tensely looked around him.
"Was it you? Did you do it?" Danielle continued.
Walter then wearily lifted his paw over his face, appearing to be suffering from his feeling of remorse.
Please fill in your e-mail so we can share with you our top stories!