4-year-old boy reveals father's secret at school so teacher rushes to save boy's family
It all started when a 55-year-old preschool teacher named Nancy Bleuer noticed her four-year-old student was displaying odd behavior. When Bleuer found out what was wrong, she immediately contacted the boy's father to help.
Camden Peterson, Bleuer's student, was unusually gloomy and it disturbed Bleuer so much that she approached her student.
She asked him what was wrong and as it turned out, Camden's father was sick and needed a kidney transplant.
Bleuer then felt compelled to help by donating one of her kidneys and decided to approach Camden's father, Darreld Peterson from Mason City, Iowa.
Follow us on Twitter at AmoMama USA for more details and updates.
BLEUER SAID DONATING "FELT LIKE THE RIGHT THING TO DO"
Even though Bleuer didn't know Darreld very well, she was very determined to help her four-year-old student's father.
Explaining the reason why, Bleuer shared that one of her colleagues had donated a kidney for someone in her church several years ago and her colleague said that it was a significant moment in her life.
Bleuer was inspired by her co-worker and wanted to do the same.
She said, "When I heard about Darreld and Camden's situation, it just felt like the right thing to do."
DARRELD'S DIAGNOSIS
In 2010, 35-year-old Darreld was diagnosed with a condition commonly called Berger's disease. It is also known as IgA nephropathy, and it happens when an antibody called IgA (immunoglobulin A) causes tissue-damaging inflammation by growing in the kidneys.
For several years, Darreld struggled with the kidney disease, and in late 2016, doctors declared that he was experiencing kidney failure.
At the time, he spent one week in a hospital in Mason City before he started getting dialysis treatments at another local facility.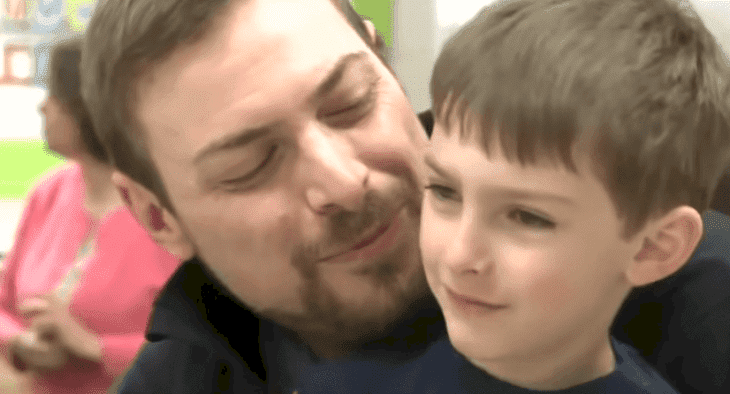 From that point, the search for Darreld's donor was on. He was placed on the waiting list for kidney transplants at the University of Iowa Hospitals & Clinics.
The doctors reiterated from the beginning that waiting for a suitable organ donor was not going to be easy. They warned Darreld that it could take months or years before the hospital finds a match for him.
BLEUER WAS A MATCH
According to Darreld, many people, including some friends and family, approached him to donate.
"But these didn't work out, for medical reasons or other reasons," he explained. "Then Miss Nancy approached me."
Bleuer asked Darreld what she should do to find out if she was a match or not. Although, as he admitted, Darreld was skeptical at first, he eventually obliged since Bleuer was persistent.
Following the initial paperwork and blood tests, Bleuer was finally declared as a fit donor in January 2017.
She spent the next few months undergoing several tests at the University of Iowa Hospitals & Clinics. She also went through psychological counseling to make sure that she was emotionally and medically able to be a kidney donor.
DARRELD'S SUCCESS STORY
Finally, the day of their respective operations has arrived on June 1, 2017.  Their kidney procedures went smoothly, and the medical staff did not face any problem all throughout. After a week, both Darreld and Bleuer were cleared to head home.
Following the healing process, Darreld had spent his days sharing knowledge and raising awareness about the importance of organ donation.
He also took the time to thank the University of Iowa Transplant Center team.
"I cannot speak enough about the surgeons, the nurses, and all the staff. Just such a positive and supportive environment. You could tell that every person wanted to be there for you," he said.
As for Bleuer's help, Darreld said he would be forever grateful for what she has done for him. He went on to say that Bleuer is an "amazing woman."
ANOTHER TEACHER BECOMES THE PERFECT DONOR
In a more recent story, a teacher from Georgia decided to also donate his kidney to his 12-year-old student.
When the student was five years old, he already went through his first kidney transplant and at the time, his father was his donor. Unfortunately, it didn't work out.
For the second time, the boy's teacher insisted on donating one of his kidneys after finding out he was a perfect match.