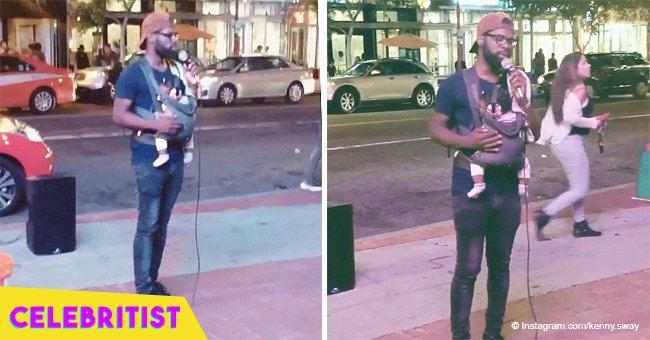 Man went viral for his touching rendition of 'I Will Always Love You' to his infant daughter
Kenny Sway, a street singer of Washington D.C., surprised the world after uploading a video of him singing "I Will Always Love You" to his infant daughter in the most adorable way.
The short clip that Kenny uploaded portrayed him holding his daughter in a baby carrier while singing in Chinatown. To make sure that the sound of his voice and the music wouldn't bother her, Kenny's daughter was wearing earmuffs.
Even though the lyrics of the song were beautiful and made the moment very special, the fact that captured more attention was Kenny's wonderful voice and how private he made the event look by singing it looking directly at the baby.
PEOPLE'S REACTION
For the caption the proud father set clear that he had dedicated the song to the girl, writing that "Daddy will always love you baby girl." The video quickly went viral, and several people started commenting on it.
Some of them pointed out that it made them cry and that it was a great source of motivation. Others kept asking about the full version of the Whitney Houston's hit sung by Kenny.
ANOTHER VIDEO OF KENNY
It was not the only video of Kenny that has garnered a lot of views. As East Coast Radio reported, a group of people gathered around the talented singer, who was also singing "I Will Always Love You." He noticed that a girl from the crows was very interested in the performance.
SINGING NEXT TO THE GIRL
He invited the girl, who had special needs, and performed especially for her. One of the most heart-melting moments took place when both of them took one knee and continued singing.
When the song ended, the girl hugged Kenny and left with an older woman who was with her. At the moment, the proud father has more than 66,000 followers on Instagram. Kenny is not the only musician who attracted a lot of attention via social media.
ANOTHER VIRAL CLIP
Hip-Hop artists Gunjin and Dashmylo got together to record a video with a powerful social message days after XXXTentacion and Lesandro Guzman-Feliz were killed.
Dashmylo sang a version of the late rapper's song "Changes" while Gunjin, in front of his daughter, was rapping about his violent choices and the things that she should not look for in a man.
Please fill in your e-mail so we can share with you our top stories!