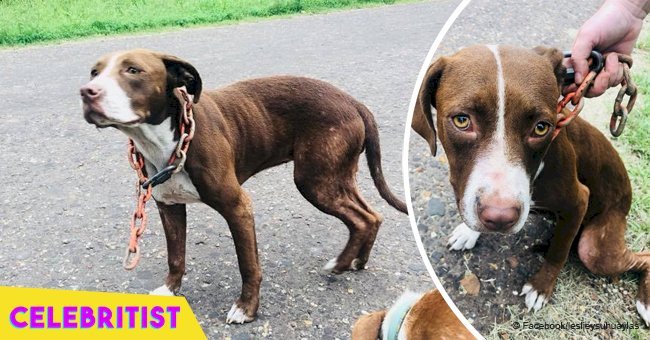 A neglected, skinny dog weighed down by a heavy chain around her neck

An unfortunate female dog eventually found help after an independent rescuer spotted her. Not only was she skinny and sickly, but she was also alone and had a heavy metal chain wrapped around her neck.
Leslie Ysuhuaylas spotted the dog while on another rescue mission. Together with Rebecca Callister, the director for animal services at New Life IFS Rescue, Ysuhuaylas had gone in search of a dog and her puppies when she saw the canine chained nearby. One look at the helpless creature and she knew something had to be done.
Ysuhuaylas told The Dodo:
"This dog starts doing a belly-crawl toward us like she's not sure if she wants to come to us or not. She had this massive chain around her neck. She was ... unsure of us and scared, and she was in poor condition. She was underweight."
Ysuhuaylas and Callister initially thought this was a stray dog or that it had been thrown into the street by its former owner. They eventually realized that she belonged to the same owner as the mom-dog and puppies they originally came for.
The resident who owned the dogs was not caring for them, and when the women asked, the owner agreed to hand over the dogs to them.
The minute they drove the dogs to safety, Ysuhuaylas unclasped the heavy chain around the dog's neck and gave her a cute name: Dudette. The rescuer guessed the shackle to weigh around 1 kilo.
Ysuhuaylas made sure Dudette and all the dogs spent the night at her house, and the next day, took them to the vet.
After a thorough examination, it was discovered that all the dos had coccidia, a dangerous parasitic infection that attacks a dog's intestines, but they all managed to survive. When Dudette was fit enough to leave the vet, she went into foster care New Life IFS Rescue.
"Emotionally, she seems pretty broken," Callister explained. "It's going to be a long road to have her come out of her shell. She's very timid and very scared. She hides a lot. I can't imagine what this dog has been through."
But Dudette, who has been renamed Angel, has been improving and is doing better than expected. She shares her foster home with another dog, Coco, who has been mostly responsible for bringing Angel out of her shell.
Callister said she hopes Angel gets adopted by a patient and loving person.
"She's starting to realize now that she's safe, but she still has a long way to go. She's going to take some work, and love and patience."
DUKE'S SAD STATE
Sadly, Angel is only one out of many dogs who end up neglected by their owners. Duke, a dog that was tied to a tree in the cold by his owner, also falls within the category. Duke's owner left behind a note that read:
"This is Duke; he has his favorite toy, his crate, and his food, and he needs a new home and someone to love him."
By the time Stephanie Dagenhart, a Maryland resident would find him, Duke was already trembling from the cold temperature.
Dagenhart went above and beyond to ensure Duke stayed safe, and fortunately, everything turned out fine.
You can read about Duke's happy ending here.
Please fill in your e-mail so we can share with you our top stories!