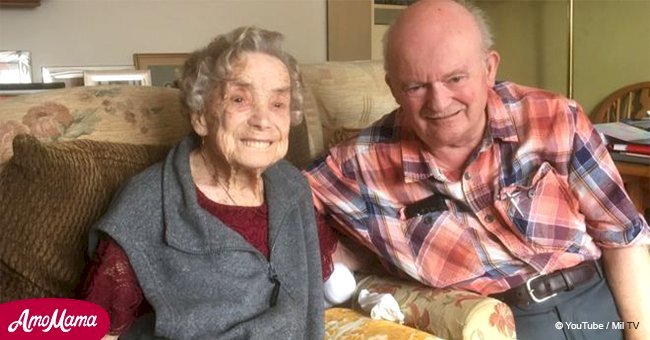 Sweetest reason for marriage between a 100-year-old woman and her 74-year-old partner
A couple shows it is never too late to wed as the 100-year-old Norah and 74-year-old Malcolm tie the knot.
Born in 1917 in Wrexham, Wales, Norah Witkiss got married twice before and married her first husband, Fred Thomas when she was 18. They met after she received a green card by the Labour Exchange and sent to work at the Prestatyn Golf House Hotel as a cook and maid.
THE WEDDINGS
Thomas was a golf caddy there, and they got married shortly after but died in 1970 after which she met Bert Witkiss. They shared 16 years of married life until Witkiss' death in the late 1980s.
Read more on our Twitter account @amomama_usa.
Through her lifelong passion for sequence dancing, she met Malcolm Yates, 26 years her junior, and have been together for over 30 years.
Thinking back at how they met former bus driver Malcolm mused:
"We met at modern sequence dancing in Meliden. I couldn't dance but Norah was great at it. She more or less taught me and helped bring me on. We went traveling a lot and would dance on vacations to Torquay. We liked the Cha-cha-cha the best and were always out and about together."
They never got married but changed that when they got engaged and decided to wed on October 16, 2018, mere months before her 101 birthday in December.
Norah is set to marry for the third time and said:
"We just thought we'd get married now before it's too late. I was worried about me getting older and I didn't want to lose the opportunity. I'm sure we'll be happy. We're really looking forward to it."
The ceremony took place at The Beaches Hotel in Prestatyn and Norah had her dress, hat and the wedding rings in order well beforehand. Close family and friends joined them for a meal after they exchanged vows.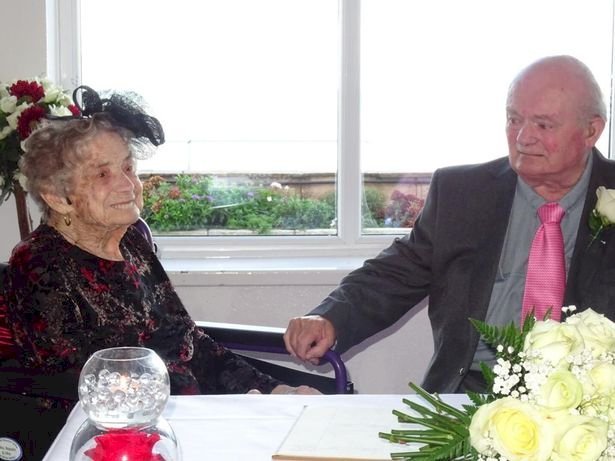 Source: North Wales Daily Post
SECRETS TO A LONG LIFE
Norah, now a great-grandmother received a card from the Queen for her 100th birthday and shared that it's all about keeping active and said:
"I've had a very good life really, I've enjoyed it. I love meeting people and talking to people. I enjoyed working and going out, I never stopped, I was always on the go. I used to go out dancing with the girls. I don't dance anymore because I can't turn and I'm afraid of falling over. But nobody believes me when I tell them I am 100, they think I'm joking."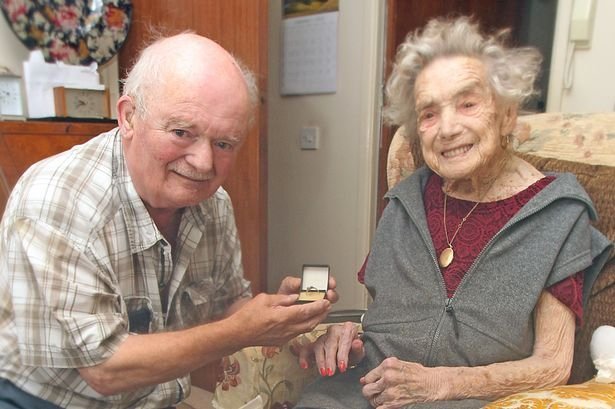 Source: North Wales Daily Post
THE WEDDING
They played Abba's 'Dancing Queen' as Norah arrived at the ceremony, pushed down the aisle in her wheelchair by a pageboy, in front of about 30 family and friends. The ceremony lasted about 30 minutes and the now Mrs. Yates said smilingly:
"To be a bride? Oh, it's beautiful. Oh to be a bride... it's absolutely wonderful."
Norah got asked whether it was worth tying the knot and she replied:
"Of course it is. I'd wait longer than that. There's nothing he wouldn't do for me, I couldn't do without Malcolm... he's special, very special."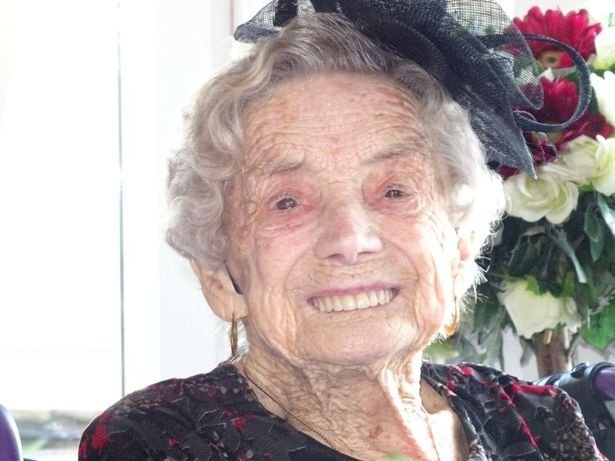 Source: David Powell
LOVE IS TIMELESS FOR OTHERS TOO
Millie Taylor-Morrison, 86, from New Jersey shares Norah's sentiment and married Harold Morrison recently after knowing each other for over six decades. Millie was married before but her previous husband died in 1992, and Harold was actually present at her first wedding.
Harold got sick in recent years and stayed with Millie in her house as per her request, but when he got better, she asked him to move out because she has grandchildren and a Christian woman wanting to live a good Christian life. Not long after they decided to get married. She looked absolutely radiant and beautiful on her wedding day with the couple looking happy and content.
Dana Jackson, 100, and Bill Strauss, 87, met two years ago at an adult day care center and realized they belonged together, and without further ado, they decided to get married. Jackson looked beautiful in her traditional white gown and veil, while the groom looked dashing in his tuxedo.
After the ceremony, which was held at the Rosewood Health Care Center in Bowling Green, Kentucky, Jackson joyfully remarked that she felt 50 years old again while husband Strauss shed many happy tears. They had a lovely wedding cake decorated with the words:
"Congratulations, you are never too old."
These couples followed their hearts and showed us that you never know who you're going to meet and that it's never too late for love.
Please fill in your e-mail so we can share with you our top stories!