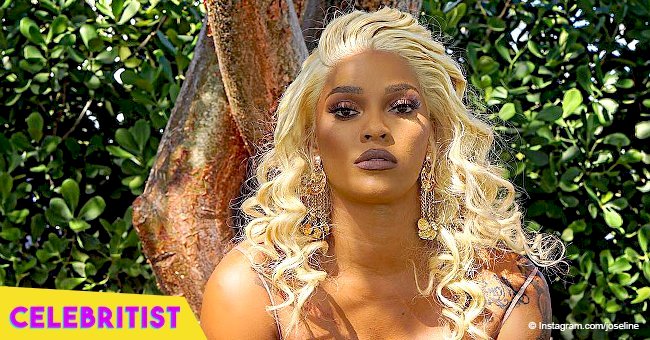 Joseline Hernandez shares photo of daughter with big flower bow & gets slammed again over her hair
Joseline Hernandez is one of the reality stars with a pretty tough skin, and it serves her well too because, when it comes to her daughter, Hernandez just isn't doing enough according to some people.
The former "Love & Hip Hop: Atlanta" star took to Instagram with a photo of one-year-old Bonnie Bella wearing a long-sleeved floral gown. The lower part of the dress was a tutu that fit the tiny tot perfectly. Bella also wore a huge pink bow on her hair, but it's her innocent face that was the highlight of the image.
Sadly, some harsh critics chose to overlook the cuteness of a child and focused instead on how her hair looks.
SO MUCH HATE FOR A CHILD
Many commenters came down hard on Hernandez, accusing her of neglecting her daughter's appearance. Some even went as far as calling her degrading names.
"Yea she is a beautiful little girl but her head ALWAYS look a mess please do better and that flower dnt match [expletive] she got on"- @alisiafoster88
"@joseline Learn how to comb hair and stop working the pole smh"- @caramel_honey_
"Mental illness is real! She know damn well she could do better but from the looks of it she's obsessed with herself and working out. She is a pretty little girl and would look so much better if her mom Comb your hair"- @keepingupwithbenni
COMING FOR THE TROLLS
Fortunately, Henandez also had supporters in the comments section, and they showed up for her. One fan summed it up by saying:
"I don't see nothing wrong with her hair. Like I told someone before that bow she has on her head is probably worth more than your whole wardrobe, if you have nothing nice to say, don't say anything at all. Think before you talk, or write for this matter."
Hernandez is no stranger to getting slammed by non-fans on social media. As a reality star, having other people in your business comes with the territory, and no thanks to the strained relationship between her and Bella's dad, Stevie J, the Puerto Rican princess has had her fill with public scrutiny.
UNBOTHERED HERNANDEZ...AND A NEW MAN
Last month, she was criticized for laying down her daughter's edges with hair gel, and some naysayers went as far as calling Bella ugly. In another photo where Bella looked gorgeous in a white hat, merciless trolls still went to the comment section to throw hurtful words at Hernandez.
As always, the aspiring rapper seems unbothered with the latest rants against her parenting style. Most recently, she's been flaunting the new man in her life, Canadian rapper Tory Lanez.
Last month, she shared an explicit photo of Lanez putting his hand over her bare cleavage and sent new romance rumors into high gear. Not too long after, she confirmed the speculations, confessing that she loves Lanez "like a fat girl loves cake."
In the meantime, Hernandez is also getting ready for the premiere of her WeTV-produced reality show, "Joseline Takes Miami," later this year.
Please fill in your e-mail so we can share with you our top stories!