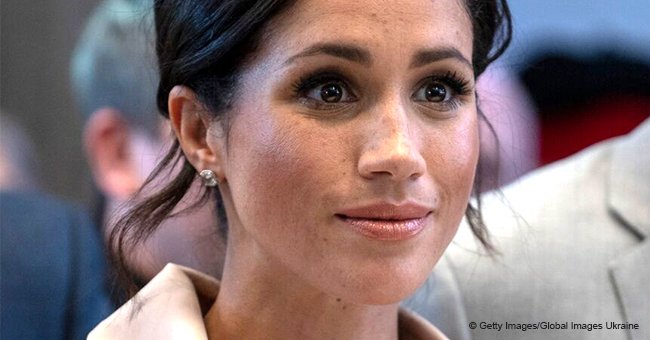 Meghan Markle dragged by GMB presenter for being 'fake' & 'acting' on royal tour with Prince Harry
GMB presenter Piers Morgan has something to say yet again, this time about Meghan Markle, whom he claims is being "fake" and is merely "acting" on her current royal tour with her husband Prince Harry.
Prince Harry and Meghan Markle are currently on a 16-day tour in Australia, New Zealand, Fiji, and other countries, and this means a lot of public appearances for the two. During one of Prince Harry's speeches, Meghan could be seen holding up an umbrella to shield both of them from the pouring rain.
In the photo, Harry is mid-speech while Meghan gazes at him lovingly as she holds up an umbrella. While many might find this to be an adorable sight of a loving husband and wife supporting each other, Piers Morgan chose to see it as a fraud, and something that is completely make-believe.
On the presenter's Twitter, he shared the photo and placed the caption "Once an actress...." which implies that Meghan was once an actress, and always will be one.
That same day, Piers went off on "Good Morning Britain" over the royal tour, saying:
"She's an actress, she's acting great at the moment."
He goes so far as to say that Meghan's been acting too much, that this has forced her to sever ties with her own family, particularly the rest of the infamous Markle clan, in order to fulfill her role as the Duchess of Sussex and "play the part" as a member of the British Royal family.
The Duchess cutting ties with her father has been news for several months now, starting from when he was not seen at the royal wedding. While his non-attendance was reportedly caused by a heart ailment, Thomas Markle Sr. himself claims that his own daughter has shut him out of her life, and has been put into "too much pressure" from the Royal family to act a certain way that she has chosen to cut ties with the Markles.
This may or may not be true, given the fact that Meghan has not publicly spoken out about her father for months, and instead has chosen to show people her tight relationship with her mother, Doria Ragland.
Regardless of what the truth is, Piers Morgan claims that Meghan is indeed hiding the truth and that she is living a lie.
Please fill in your e-mail so we can share with you our top stories!