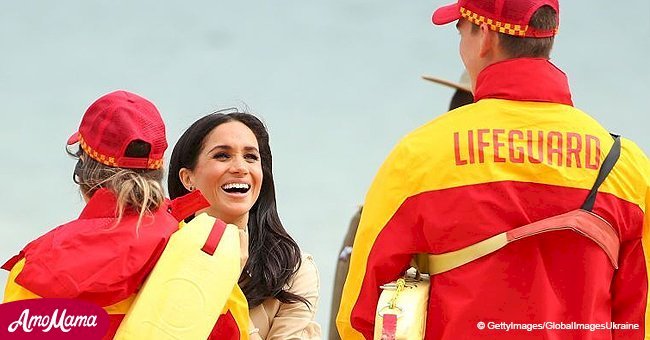 Lifeguards ask Meghan and Harry: 'Do you want to take a dip?'

On the third day of their royal tour Meghan and Prince Harry in Melbourne, it was time to head to the beach for some unexpected activities and laughter.
Meghan and Harry traveled from the school they were visiting South Melbourne Beach in style on the iconic Melbourne Tram. The couple lent a hand with a beach cleanup, where they assisted local schoolchildren and a Beach Patrol President to clean up the shores.
Once done with that they met up with the lifeguards for a stroll and a chat and when lifeguard Jose Lightfoot asked Meghan if she would like to take a dip. Meghan took one look at the choppy water and somber skies before she burst out laughing and replied, 'Not today!.'
Lifeguard Jose admitted to feeling a bit star-struck and when Prince Harry cheekily commented on Jose's impressive height adding that he was built for lifeguarding he got even shyer and said afterward:
"He commented on my big feet. I just laughed, I was a bit shy... it's a big deal meeting royals."
Read more on our Twitter account @amomama_usa.
Fellow lifeguard Emma Horn, who also got to chat with the royal couple said:
"They were so friendly and nice. They wanted to know all about our jobs, and how long we'd been in the professional lifeguard service."
A 19-year-old teenager was so star-struck that she ended up in tears after Prince Harry broke protocol to give her a hug during the royal couple's visit to the Royal Botanic Gardens in Melbourne. India Brown is an avid supporter and fan of the royal family and Prince Harry in particular.
While the royals got busy in exchanging words with fans one, in particular, caught his eye. India had made a big sign that read:
"We've been here since 4 am! Loved u since I was 8!!!"
After they shared a few words, he leaned over the barricade and gave Brown a quick hug, the moment was overwhelming and she broke into tears. She had been waiting since 4 am in the rain for an opportunity to see the royal couple with her best friend Molly McGrath as company.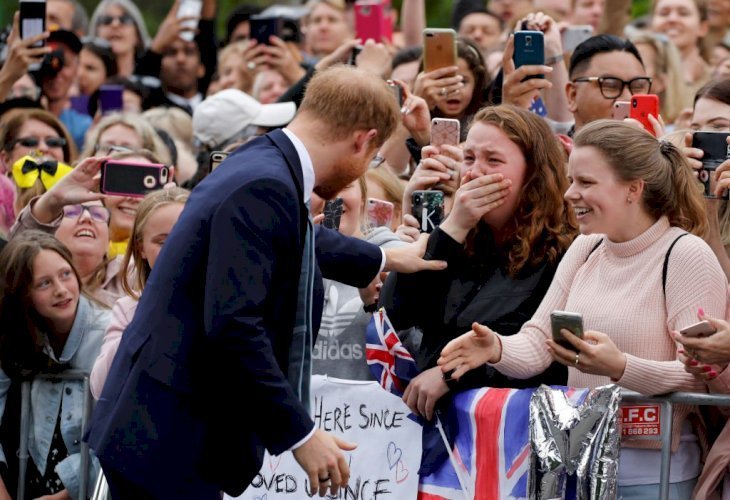 Source: GettyImages
Everyone was not equally impressed by the fanfare. When the royal couple arrived in Dubbo on October 17 fans gathered to give them a warm welcome. The couple walked along greeting and saying a few words to the fans, but when Harry bent down to give a toddler a hug she showed her reluctance by putting her hands on her hips, refusing to move closer.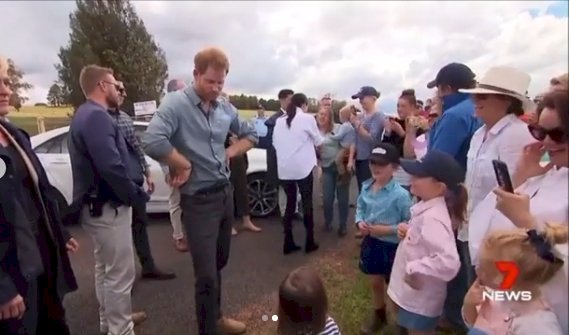 Source: DailyMail
Prince Harry stood up, and copied the toddler, he pulled a face and put his hands on his hips as well. The crowd laughed but mum was not going anywhere without her picture, so she gently pushed the little one in Prince Harry's direction, he pulled her closer and gave her a hug. Her resistance seemed to crumble a little at least.
Please fill in your e-mail so we can share with you our top stories!