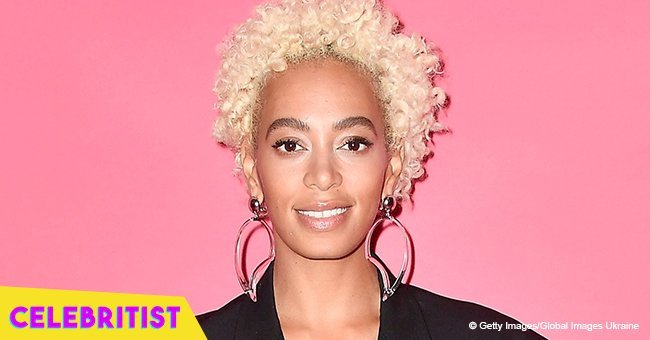 Solange's ex-husband shares photo with their son on his 14th birthday & boy looks just like dad

Solange's son turned 14 yesterday, and her ex-husband took to Instagram to leave a heartwarming message for their first child. More than anything, the photo proves the teenager is not only his father's replica by name.
Daniel Julez Smith Jr. and his father, Daniel Smith, looked more like best buddies in the birthday pic found below.
Julez, now as tall as his dad, wore a white t-shirt and red Adidas joggers. He complimented the sporty outfit with matching white and red sneakers.
Daniel also chose a laid-back look in a black sweatshirt and ripped black jeans. A white cap and white sneakers finished the older man's ensemble.
Daniel penned loving words to his son, who he credits as the reason he knows true love:
"We all smiles ova here!!!!! Can't believe u are 14 years old today SON, I remember when u was just a pup, now look at you growing into your own man!!!!!! So proud of who u are my lil g, lil smitty, my lil woodie, one third of my heart, the reason I know what TRUE LOVE looks like."
The lookalike father and son have always shared a close bond, and even though Daniel and the "Cranes in the Sky" singer divorced 11 years ago, he has unhindered access to his son.
In April, Julez was spotted with his father at the popular Coachella music festival where Daniel shared a video of them having a blast in the crowd. The father-son duo was there to watch Solange and her sister, Beyoncé, take the stage together.
Solange, 32, confessed in 2014 that co-parenting with Daniel is a blissful experience.
"We co-parent really well," she said. "I'm able to say, 'I need to finish this album, can you step up and take care of the boy?'"
The singer was still dating her now-husband, Alan Ferguson at the time and she told Harpers Bazaar:
"Luckily, I dated all of the losers ages ago. My love life has been stable for a while."
Solange married Daniel in February 2004 when she was 17, and he was 19, and even though their fairytale union did not last, she has described raising the fruit of that marriage "one of the most bittersweet moments of my life."
Please fill in your e-mail so we can share with you our top stories!