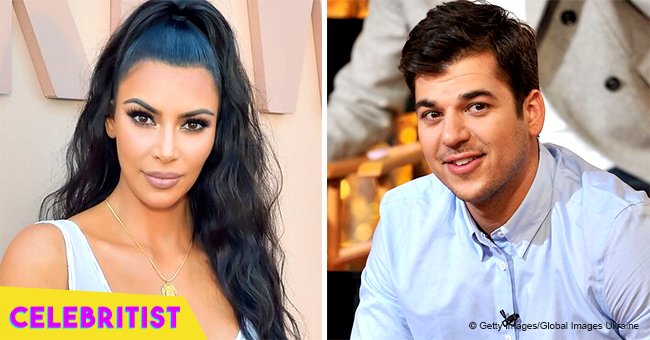 Kim Kardashian's son Saint tries to kiss Rob Kardashian's daughter Dream in adorable video
Even though Blac Chyna's relationship with the Kardashians is not the best one, her daughter, Dream, was captured in video spending time with Kim's son, Saint.
In the short recording that The Shade Room uploaded, Kim Kardashian and Kanye West's son, Saint, appeared wearing black shorts and an oversized plaid shirt while holding some candy in his hand.
He gave it to Blac Chyna and Rob Kardashian's daughter, Dream, and seemed very excited about it. The girl, dressed in a blue dress, was very interested in the lollypop that her cousin just gave her, so she kind of ignored him for a while.
GETTING HIS CANDY BACK
Saint approached her as if he wanted to kiss her, but the young girl walked backward, refusing to be kissed. After a second, Saint gave up but made sure to get his candy back.
REACTING TO THE CLIP
As soon as that clip hit The Shade Room's Instagram page, followers took to the comment section to share their thoughts. Some of them set clear that Saint's reaction was hilarious as he took his candy back after she refused to be kissed.
SPENDING TIME WITH THE COUSINS
It was not the first time that Saint and Dream appeared together on social media as they attended True Thompson's half-birthday celebrated earlier this month. For the occasion, Khloé, True's mother, threw a cupcake party and invited Stormi, Chicago, Saint, and Dream.
After the party, Khloé uploaded a photo on Instagram showing the five cousins sitting on a pink blanket in front of several cupcakes. The most adorable aspect of the post was that the children were clearly focused on the food, so they didn't care much about the picture.
THROWING THE CEREMONIAL FIRST PITCH
In late-September, Saint was in the middle of the spotlight after he attended a Chicago White Sox vs. Chicago Cubs baseball game with his father to throw the ceremonial first pitch.
Kanye got onto the pitcher's mound wearing a White Sox jersey while Saint put on a Chicago Bulls shirt. The boy threw the ball first and, considering his age and size, his pitch was quite impressive.
It was Kanye's turn, later, and even though his pitch went farther, it bounced once before reaching the catcher. The rapper later tweeted a photo of his late mother, Donda, throwing a baseball at the same stadium more than a decade ago, making the milestone with Saint even more special.
Please fill in your e-mail so we can share with you our top stories!