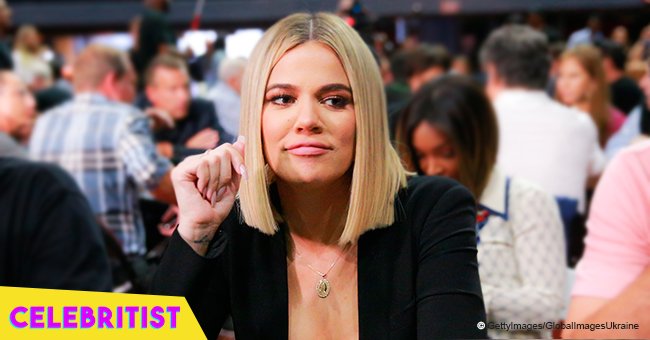 Khloé Kardashian's baby daughter is all smiles in blue gown & headband
Khloé Kardashian's six-months-old baby daughter has become the leading lady on her Instagram account. True is growing up fast, and her mom seems to be enjoying every minute of motherhood while sharing some of the most special moments with fans through social media.
The reality star recently shared an adorable pic of her and Tristan Thompson's daughter, who looks adorable in the middle of a bed surrounded by children's books. True donned a cute blue dress and a matching denim headband as she enjoyed herself smiling brightly to the camera.
Khoé, 34, gushed about the girl in the caption:
"I probably dreamt about you my entire adult life. You have exceeded every expectation I had of you! This is LOVE."
Fans of the Good American designer took over her comment section to share their thoughts on the picture.
One user wrote "Khloe; your baby girl is going to show you so much love in her little way, and forever. She is sooo pretty," another added, "Khloe she is just exquisite and such a happy girl. Enjoy it!" and a third one said "Omgggg she's literally Tristan in a dress. Sorry, Khloe. Lol. But she's sooo beautiful."
WHEN IT'S SUNNY IN L.A
A few days later, Khloé shared another adorable snap of True, this time around, it was a close up of her face wearing a pair of huge circular Gucci sunglasses with the inscription "L'aveugle par amour," which translates from French to "blind for love." The baby completed the look with a black headband and a matching swimsuit.
At 6-months-old, True already is quite the fashionista, like the rest of her family, especially her older cousins.
While True is the youngest of the Kardashian kids, she was born just a few months after Kylie Jenner's daughter, Stormi, and Kim Kardashian daughter, Chicago, who was conceived through a surrogate.
The adorable girls are dubbed as "the triplets" in the family because of their close age, and they enjoy playdates continually.
CUPCAKE PARTY FOR THE BABIES
Just last week, Khloé organized a cupcake party for the girls and also invited Saint, Kim's 2-year-old son, and Dream, Rob Kardashian's 1-year-old daughter. The cousins enjoyed a picnic-like afternoon with cupcakes and lots of sweets while sitting on a blanket in a gorgeous garden.
"Cousin Cupcake Party!!! Keeping Up With The Kousins," she captioned an adorable pic of the children.
While the adults were not pictured, is safe to assume that most of the family was present for the affair, including Kris Jenner, with whom Khloé later shared a picture to thank her, in a spontaneous post, for all that she has done for the family.
MOTHERHOOD CHEAT CODES
Khloé explained that Kris gave her, and her sisters, the "cheat codes" for motherhood, something that Khloé seems to be excelling at.
Even though she had a few rough days before giving birth to True, when she found out with the rest of the world that her boyfriend had been cheating, Khloé managed to stray strong and enjoy of the miracle of life with her daughter in arms.
Even though she forgave Thompson and moved on with their relationship, Khloé is said to still have some trust issues with her baby daddy, which is understandable. While Tristan is now back in Cleveland for work, Khloé decided to stay a bit longer in Los Angeles, where she has the constant support of her family.
The Good American designer is enjoying the new autumn weather in the city, and even True got a taste of the Halloween spirit when she visited a pumpkin patch with her aunt Kourtney rocking a pumpkin costume.
Please fill in your e-mail so we can share with you our top stories!