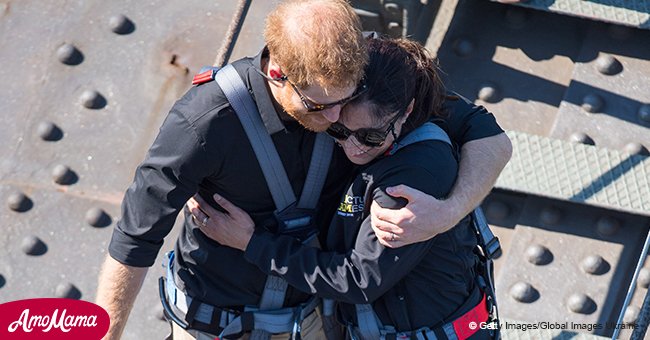 Here is how Prince Harry comforted a service widow who climbed Sydney Harbour Bridge with him
On Friday, Prince Harry climbed the Sydney Harbour Bridge in Down Under to raise the Invictus flag. He was officially ushering in the 2018 Invictus Games.
One of the people he climbed with was a service widow who claimed Harry comforted her when she shared how she lost her husband. An image shows the prince hugging the woman tightly.
Prince Harry, 34, took the more than 1,000 step climb on the Sydney Harbour Bridge with the Australian Prime Minister Scott Morrison. He was also joined by Invictus Games athletes Luke Hill, Ruth Hunt, Heidi Joosten, Michael Lyddiard, as well as Gwen Cherne, 41.
Cherne's late husband, Australian Special Forces officer Peter J. Café, 48, died by suicide in February 2017. He had served in Cambodia, East Timor, Afghanistan, and Iraq.
For more on this story go to our Twitter account @amomama_usa. Cherne claimed that on the way down from the bridge, Harry comforted her while they spoke about her family for nearly 10 minutes.
She shared that the prince also asked how she and her children Emily, 6, Lachlan, 3, and stepson Tom, 19, were coping. Harry's wife, Duchess Meghan, 37, stayed on the ground for the excursion.
She is pregnant with their first child. Harry was climbing the bridge for the second time as he'd climbed it before in 2005.
In May 2017, Pippa Middleton, Duchess Kate's sister, also made the climb with her husband, James Matthews, while on her honeymoon. On his arrival at the top of the bridge, Harry raised the Invictus Games flag alongside the already raised Australian national flag.
Back in Sydney, the Royal couple attended the opening weekend of the Invictus Games which started with an opening ceremony on Saturday. The Invictus Games are a Paralympic-style competition for wounded and recovering service members and veterans from around the world.
It includes sports like wheelchair basketball, sitting volleyball, and indoor rowing. Harry and Meghan's 16-day tour will also include visits to the island nations of Fiji and Tonga before returning to Australia and going to New Zealand.
Meghan probably opted out of climbing the bridge with her husband because of her pregnancy. Expectant mothers who are less than 24 weeks pregnant must provide a certificate of fitness that is signed by their GP in order to be allowed to climb.
Anyone who is, further along, won't be allowed to climb at all. The Duchess is believed to be just over three months pregnant with the baby expected in Spring next year.
Please fill in your e-mail so we can share with you our top stories!