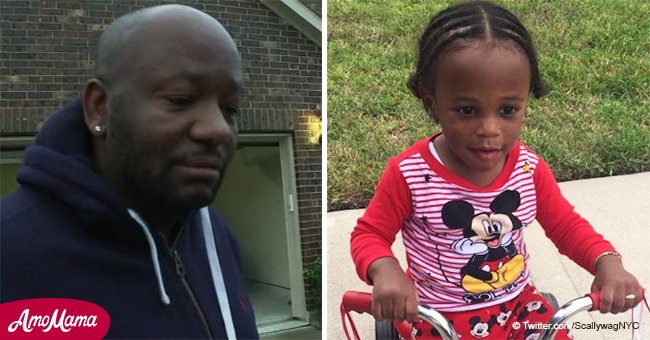 Mother of 2-year-old boy cruelly left him on a stranger's doorstep and ran away
The video recorded the moment in which a woman abandons her supposed son at the door of a house in Spring, Texas.
The Montgomery County Sheriff's Office was in charge of this case of abandonment. The first indications that could be known thanks to the video, is that the woman was of black complexion and that her age ranged between 20 and 30 years.
In the black and white Youtube video, you can see how the woman approaches the stranger's door and drops off the child and a backpack then rings the bell, runs away and leaves the child.
The case was known thanks to the owner of the house, who called 911 after answering the call at her door, leaving, and finding the child alone on the street. Read more on our Twitter account @amomama_usa.
The clip, which quickly went viral in social media, caused outrage because the woman is seen knocking on the door of a house and abandoning her supposed son in less than 26 seconds. The events were recorded thanks to a security camera that the owner of the house has installed in the doorbell.
However, as reported by the Daily Mail, it was all a misunderstanding. The parents of the toddler have already appeared and are very outraged by what happened.
The woman seen in the Youtube video is the best friend of the child's mother. The boy was identified as Royal Prince Simmons and his father lives next to the house where the woman dropped him off.
What actually happened is that the woman in the video was in charge of the toddler for a few hours, so when she went to take the child back to his home, she made a mistake and dropped him at another home.
The people who received the child are actually the neighbors of the boy's parents, but as they live in a large area the families don't know each other.
'What if my neighbor wasn't there? If my neighbor wasn't there, my son would have been roaming up and down the street,' Simmons said to ABC News.
Some people can be really irresponsible even when they know they're supposed to be in charge of a little child that cannot look for his own. Like this father in Montana who abandoned his 5-month old baby after a car crash because he was too heavy to carry.
The man was incoherent, possibly due to drug use, and was unable to help officers find the baby, or even remember when the crash had occurred.
He changed his story constantly, sometimes saying he had left the baby lying on the side of the road, then claiming it was dead and buried in the woods.
Please fill in your e-mail so we can share with you our top stories!