Meghan Markle adorably cradles her growing baby bump in pictures with Prince Harry at the beach
Meghan Markle drew attention to her tiny baby bump in photos where she gently cradles it. She also opened up about why her pregnancy is "like having jetlag" and their prospects for baby names.
Prince Harry and Meghan Markle are busy touring Australia but their unborn child isn't lacking in attention. In fact, recent photos reveal Meghan holding on to her growing bump while strolling in the beach with her husband.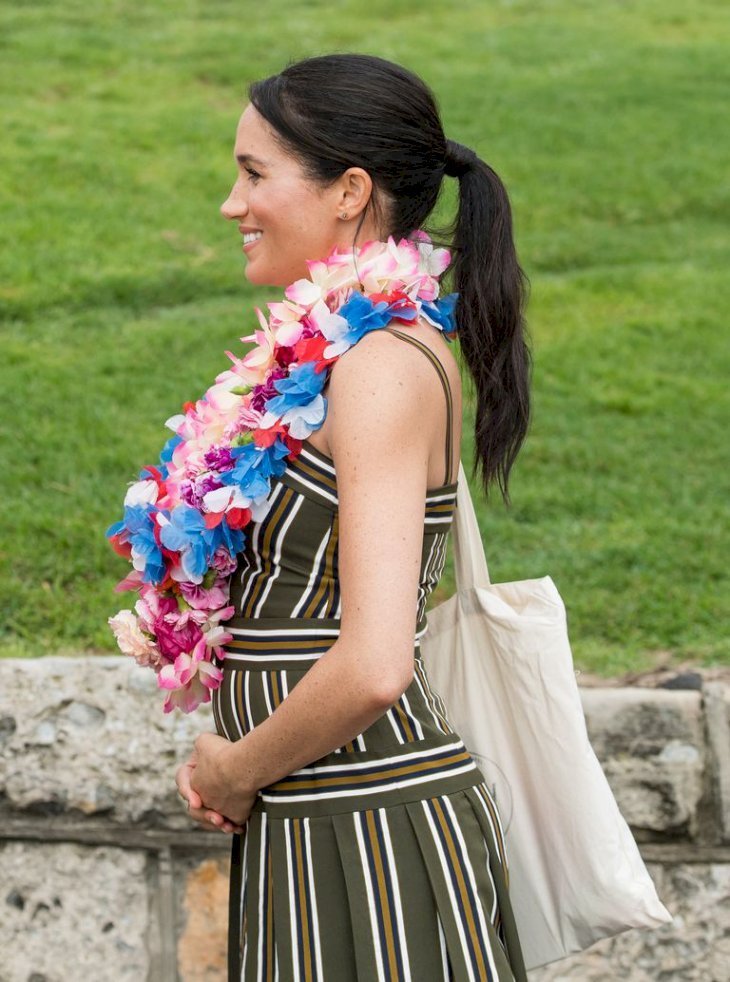 Source: Getty Images
BABY BUMP
The Duke and Duchess of Sussex spent some time in Bondi Beach in Sydney on Friday as part of their royal tour of Australia, New Zealand, Tonga, and Fiji. Making an appearance was Meghan's tiny baby bump which her striped Martin Grant maxi dress failed to conceal. As the couple made their way to the beach, Meghan gently held on to her belly, a reminder of the special gift they've been blessed with and recently shared to the world.
BABY NEWS
On Monday, the royal couple announced that they were expecting their first child as they touched down in Sydney. It's the announcement fans have been waiting for since the pair wed in May. According to a statement from Kensington Palace, the baby is expected to arrive in the Spring.
BABY LOVE
The couple is gracing a total of 76 engagements during their 16-day tour but it hasn't kept Meghan from tending to her unborn child. She's often spotted cradling her belly and even spoke about her pregnancy with one of the women she met.
The Daily Mail's Rebecca English tweeted about a conversation the Los Angeles-born duchess had with another pregnant woman named Charlotte. According to her, Meghan said, "pregnancy was like having jet lag." The former actress revealed she'd be awake at 4:30 am and would end up doing yoga.
As we all know, Meghan is a yoga enthusiast. She gets it from her mother, Doria Ragland who is a yoga instructor. The 37-year-old admitted in the past that she'd been doing mommy-and-me yoga since she was seven. She also declared in her previous lifestyle blog that yoga, the beach, and a few avocados are a cure to most things.
BABY NAMES
Baby talk also took place in Melbourne earlier in the week when the royal pair opened up about potential baby names. While they were on one of the city's trams, a 12-year-old student leader Charlie Wolfe asked if they already had names in mind. Meghan replied,
"We've been given a long list of names from everyone, we're going to sit down and have a look at them."
BABY GIFTS
Upon their arrival in Sydney, the couple was also welcomed with gifts for their baby. Their first official presents came from Australian Governor-General Peter Cosgrove and his wife Lady Lynne Cosgrove during a reception at the Admiralty House. The pair received a fluffy stuffed kangaroo with a joey in its pouch and sheepskin Ugg booties. Harry said the gifts were "awesome", much like his marriage has been so far, if we may add.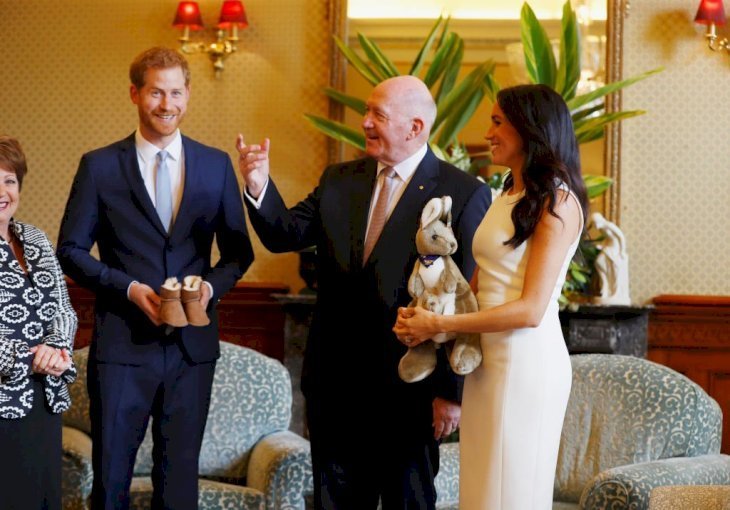 Source: Getty Images
Please fill in your e-mail so we can share with you our top stories!