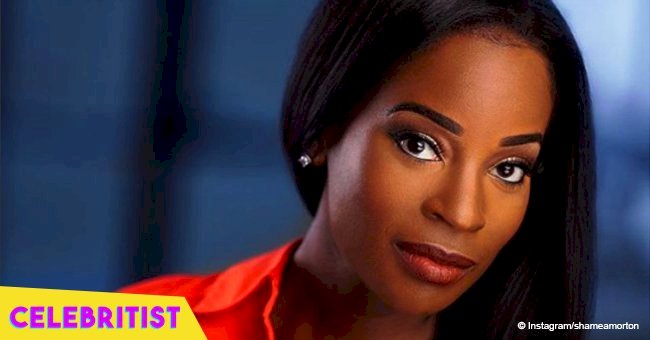 'RHOA's Shamea Morton flaunts bare baby bump in daring tiara and tutu outfit in pic
Shamea Morton is expecting her first child soon but before going on full mommy mode, she captured her enlarged baby bump in a unique photo shoot.
Fans were treated to a full view of Shamea Morton's belly when she bared them in a photo shoot dressed as a ballerina. She also posed alongside her husband Gerald Mwangi wearing matching African-inspired costumes.
PREGNANCY REVEAL
News of the celebrity couple's first pregnancy became public in May. Shamea revealed she was due in Thanksgiving when she opened up to Us Weekly and announced that she was having a baby. She also promised to reveal the gender of her child on her first wedding anniversary in July.
GENDER REVEAL
Shamea made good on her promise when she threw a gender reveal party a day short of her wedding anniversary. 300 guests flocked to the couple's Georgia home to witness pink fireworks on display. Shamea is thrilled she's welcoming a girl.
BABY NAME REVEAL
Last month, the reality star glowed in her baby shower. While 30 months pregnant, she had a "Tutus and Tiaras" party where she wore a long-sleeved semi-sheer pink dress with a tutu-like hem. Looking more like a beauty queen than a pregnant wife, she wore a beautiful tiara in keeping with her theme.
Coinciding with her shower, Shamea revealed the name of her future child. In her invitation, she wrote Shya Mwangi above an image of a diaper adorned with roses, tulle, and a crown. The name is lovely, much like the photo shoot the star recently had to mark the final stretch of her pregnancy.
BABY BUMP REVEAL
Dressed in a pink tutu and a tiara, the mom-to-be channeled a pregnant ballerina in photos she shared on her Instagram. Her pink ensemble showcased her bare belly as she wore a three-fourth sleeved cropped top. She also flaunted her cleavage with its low neckline while her legs peeked from the slit of her translucent skirt.
If not for her belly that's front and center in her photos, Shamea didn't look pregnant or about to pop. She glowed in her slender physique.
In another series of photos, she changed into an African-inspired costume in purple and asked her husband to join her. Gerald matched her belly-baring outfit wearing the same shade. His shirt had yellow piping that matched the hat that she wore. In one of their photos, Gerald warms Shamea's baby bump by laying his hand on it.
It won't be long before Shamea graces her Instagram page with photos of her child. Fans are most likely counting the days before the real cause for celebration is born. Shya is a lucky child to be welcomed by her excited parents. Their recent photos prove they're in this together.
Please fill in your e-mail so we can share with you our top stories!