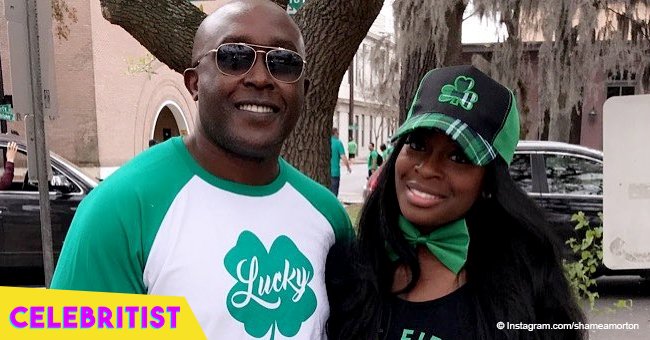 'RHOA's Shamea Morton finally reveals the gender of her baby
The wait is over. Shamea Morton and Gerard Mwangi just revealed their baby's gender. The couple lit up the sky above their home with fireworks in the color representing their baby's gender as Kandi Burruss revealed the news on Instagram.
It was a big day on Saturday for Shamea Morton and her husband Gerard Mwangi who finally disclosed the gender of their firstborn as they threw a big reveal party at their Georgia home.
The pregnant 'Real Housewives of Atlanta' star was glowing in white as she entertained guests who also came dressed in the same hue as requested. Her co-star Kandi Burruss teased fans ahead of the announcement by posting photos from the party and predicting the baby's gender.
"We're waiting to find out what my boo @shameamorton is having! I'm #TeamBoy. What do y'all think?"
Later, the reality star posted an update and finally revealed the baby's actual gender.
Excitement filled the Mwangi's home as pink fireworks lit up the sky coinciding with the announcement. Earlier, Shamea had expressed to Us Weekly that she was hoping for a girl.
"I hope she's a mini-me. I do girls really well. I was more terrified of a boy. I'm all for the tutus and bows."
Now that she got her wish, the 36-year-old mom-to-be is over the moon. And so is her husband, she revealed.
"He already calls her his princess. He's overjoyed."
Along with her co-star Kandi, Cynthia Bailey, and Porsha Williams were also among the 300 guests that flocked to the celebration that happened to fall the day before the expectant couple's first year wedding anniversary. They tied the knot in Kenya after dating for three years. To commemorate their anniversary, the couple shared a 45-minute video from their wedding. According to Shamea,
"The entire house was quiet. There were even a few tears shed when we played our vows."
Shamea announced she was pregnant back in May. By November, she and Gerard will be proud parents of a baby girl.
Please fill in your e-mail so we can share with you our top stories!