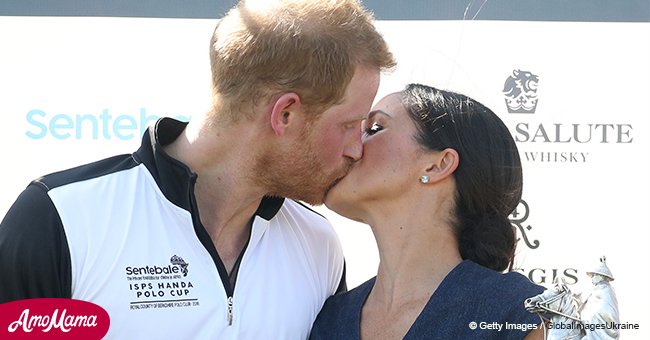 Prince Harry reveals what gender baby he'd like to have
Last Monday, Prince Harry and Duchess Meghan announced that they would be expecting their first child together. The birth is anticipated for Spring 2019.
On Sunday, the prince was seen at the Invictus Games without his wife. There he gave a hint on what gender he hoped his child would be.
A video captured and shared by a crowd member showed Prince Harry, 34, passing by members of the public in Sydney. The footage showed a fan yelling at Harry: "I hope it's a girl!"
The prince delayed a bit before responding: "So do I!" Earlier last week, Harry had touched on the subject of his wife's pregnancy.
For more on this story go to our Twitter account @amomama_usa. Just hours after releasing their statement the prince said:
"We're both delighted to be here and really impressed to see you serving beer and tea at an afternoon reception, in true Aussie style! And we also genuinely couldn't think of a better place to announce the upcoming baby, whether it's a boy or a girl, so thank you very, very much."
According to Parents.com, pregnant women typically had to wait 18 to 20 weeks into their pregnancy before the child's gender could be determined. Since the baby is expected in "spring of 2019" those hoping Harry was hinting at something will be disappointed as the couple probably doesn't know the sex yet.
Even though the baby's gender hasn't been confirmed bookies were already taking bets on the baby's name. On Tuesday, Betway spokesperson Alan Alger said:
"The early favourites are Victoria, 15/2, and James, 9/1, after a smattering of bets landed straight after this morning's announcement, while Diana, like with William and Kate's baby betting down the years, is also popular at 12/1."
While arriving at Sydney's Admiralty House, where he and Meghan are staying for their tour, the prince added:
"Thank you for the incredibly warm welcome and the chance to meet so many Aussies from all walks of life. We also genuinely couldn't think of a better place to announce the, er, upcoming baby. Whether it's a boy or a girl."
During his Invictus Games opening speech on Saturday, Harry referenced the couple's unborn child again. He said:
"I have been so proud to be able to introduce my wife to you and we have been so happy to be able to celebrate the personal joy of our newest addition with you all."
The Invictus Games opening saw the parents-to-be smiling with joy as they took their seats at the Opera House for the opening ceremony. At one point Meghan placed her hand on her husband's knee.
The couple was seen sitting alongside Prime Minister Scott Morrison and New South Wales Premier Gladys Berejiklian. The ceremony was delayed by a thunderstorm over the New South Wales area.
Please fill in your e-mail so we can share with you our top stories!