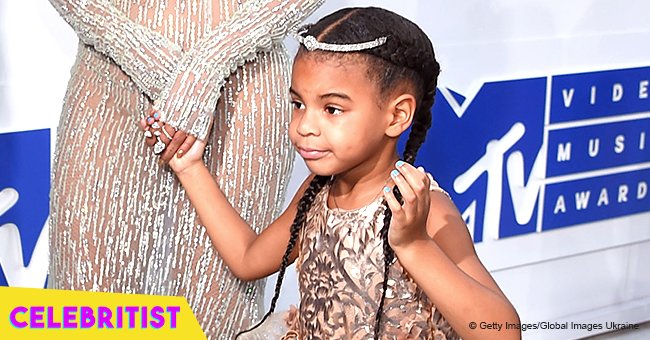 Blue Ivy rocks long braids and patterned outfit as she enjoyes a day at the pumpkin patch
It's definitely almost Halloween, and Blue Ivy made sure to buy some pumpkins before the festivity at the Mr. Bones Pumpkin Patch in Culver City with a few of her friends.
While Beyonce and Jay-Z were out, their 6-year-old daughter Blue Ivy made sure to have some fun with some friends while out on a fun field trip. However, given that you're the eldest daughter of two billionaires, it comes with no surprise that a 6'10" bodyguard followed her wherever she went.
During the Mr. Bones Pumpkin Patch event, more than 100 kids roamed around to play on inflatable slides, experience the petting zoo, and take photos with the famous Frankenstein monster and all the other pumpkin exhibitions available.
Dressed in a checkered shirt, printed jeans, sneakers, and a cat-ear headband, Blue Ivy is looking a lot more like her dad as she grows older. During the festivities, she chose to enjoy the sights as much as possible, even riding a brown and white pony at one point.
It's clear that Blue Ivy is getting a lot more grown-up than people have imagined, as she is rarely seen out without her parents or grandmother. Now that she is a school girl, it's been much easier for her to enjoy the outdoors even without her family, which is good to get her out of her comfort zone.
Meanwhile, her parents recently just finished their "On The Run II" tour, and now that they've just finished one of their most successful runs yet, the two have been kicking back and enjoying the fruits of their hard work.
Beyonce and Jay-Z were last seen cozying up beside one another in a luxury car while checking out the site of their latest charity venture. To say thanks for the wonderful run their tour had, the Carters donated a new school building. However, with the amount of money they have, they have enough money to burn on luxurious SUVs despite allocating a lot on charity, their kids, their vacations, and a lot more.
Please fill in your e-mail so we can share with you our top stories!