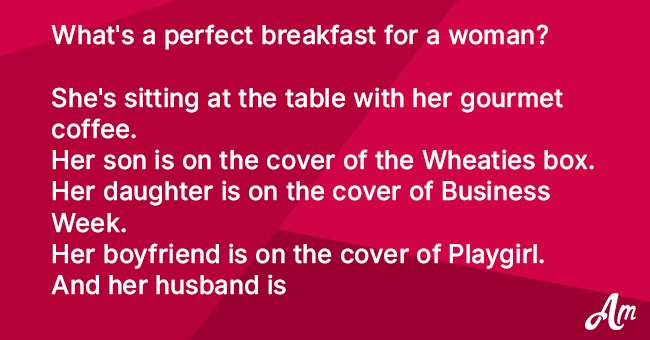 5+ jokes only true women will understand
A few jokes to brighten up any woman's day!
Follow our Twitter account, @amomama_usa, for news, jokes, and more.
CAUGHT IN THE ACT
After a rigorous day of shopping, a woman returns home to hear strange noises from the main bedroom and rushes upstairs to investigate.
She finds her husband naked on the bed, sweating and panting. Concerned, she asks him what is the matter.
Her husband replies: "I'm having a heart attack!"
The wife quickly runs downstairs, grabs the phone and is just to about to call 911 when her four-year-old son runs up to her. He says:
"Mommy! Mommy! Aunt Shirley is hiding in your closet, and she's got no clothes on!"
Enlightened by this news, she slams down the phone and runs back up to the main bedroom. She ignores her husband's theatrical performance and goes straight to the closet.
Sure enough, there is her sister, completely naked and cowering on the closet floor. She screamed:
"You rotten Bitch! My husband's having a heart attack, and you're running around naked scaring the kids!"
A SUCCESSFUL APPLICANT
A lonely 70-year-old woman decided that it was time for her to get married. So, she put an ad in the local paper that read:
MUST BE IN MY AGE GROUP (70's)
MUST NOT BE A WOMAN-BEATER
MUST NOT RUN AROUND ON ME,
AND MUST STILL BE GOOD IN BED!
ALL APPLICANTS PLEASE APPLY IN PERSON.
On the second day, she heard the doorbell and hoped that a fine hunk would be standing on her porch.
Much to her dismay, it was a grey-haired man in a wheelchair. He had no arms or legs.
The woman replied: "You're not really asking me to consider you, are you? Just look at you ... you have no legs!"
The old man smiled and confidently replied: "Therefore I cannot run around on you!"
Not to be shut down so easily, the woman continued: "You don't have any hands either!" Again the old man smiled, "Yes, I won't be able to beat you or abuse you!"
She raised an eyebrow and gazed intently, having just one more question she needed answered: "Are you still good in bed?"
With that, the old gentleman leaned back, smiled from ear-to-ear and said:
"I rang the doorbell, didn't I?"
DON'T TELL THE BOSS!
Three friends worked together and saw a golden opportunity when their boss, also a woman, left early for the day.
The brunette suggested they leave early because their boss, in her absence, would not notice. The other two agreed and they all left.
The brunette decided to enjoy the afternoon and spend some quality time with her son, while the redhead wanted nothing more than to spend some time gardening.
The blonde headed straight home, only to hear noises coming from the master bedroom. When she opened the door, she saw her boss and her husband in bed.
They didn't see her, and she decided to quietly close the door and leave.
The following day, all three women get together and the brunette asks if they should leave early again the following day. The blonde replies:
"No way! I nearly got caught!"
THE PERFECT BREAKFAST?
What's a perfect breakfast for a woman?
She's sitting at the table with her gourmet coffee.
Her son is on the cover of the Wheaties box.
Her daughter is on the cover of Business Week.
Her boyfriend is on the cover of Playgirl.
And her husband is on the back of the milk carton!
HOLY TITLES
Four Catholic men and a Catholic woman were having coffee.
The first Catholic man tells his friends: "My son is a priest, and I'm so proud of him! When he walks into a room, everyone calls him Father."
The second Catholic man chirps: "My son is a bishop, and I'm proud of him too! When he walks into a room everybody calls him Your Grace."
The third Catholic gent says: "My son is a cardinal and it simply warms my heart! When he enters a room everyone says Your Eminence."
The fourth Catholic man chips in: "My son is the Pope. When he walks into a room people call him Your Holiness."
The Catholic was sipping her coffee in silence when the men turned to her, offering her the opportunity to brag about her son too. She simply said:
"I have a gorgeous daughter. When she walks into a room, people say ... Oh God!"
Please fill in your e-mail so we can share with you our top stories!