Prince Harry is unbelievably a young Prince Philip look-alike
When a royal photographer wanted to celebrate the visit of the royal couple by posting a picture of them in the latest edition of Paris Match, he stumbled on something quite special.
Prince Harry and Meghan Markle are currently in Australia as part of their first royal tour together. Royal photographer Chris Jackson announced that one of his photos of the couple would feature on the cover of Paris Match in celebration of their visit and the announcement of Meghan's pregnancy.
Prince Harry Looks Just Like Prince Philip in This Throwback Photo from 1957 https://t.co/9NBAqhAx8C

— Harper's Bazaar (@harpersbazaarus) October 21, 2018
But Jackson discovered an old issue of Paris Match, with Prince Harry's grandfather, Prince Philip on the cover dating back to 1957 and what he saw was astounding. The resemblance of Prince Harry and Prince Philip when they were the same age is uncanny.
Grandfather and grandson look like they could have been twins. Jackson shared some side-by-side pictures of them and their similarity is unbelievable.
Read more on our Twitter account @amomama_usa.
Rumors about Prince Harry's parentage have surfaced frequently, however, with their striking resemblance, it's clear the rumors are unfounded and it's clear that they are related.
Seeing Double! Prince Harry Looks Just Like Young Prince Philip on Australia Tour https://t.co/P4y7iIOnJ8

— People (@people) October 21, 2018
But Prince Harry and his grandfather are not the only royals sharing a striking similarity. 3-year-old Princess Charlotte, daughter of Kate Middleton and Prince William look just like her father when he was the same age.
A few photos have emerged showing their similar features, they both have the same adorable chubby cheeks, slender lip shape, a strong brow, and a button nose.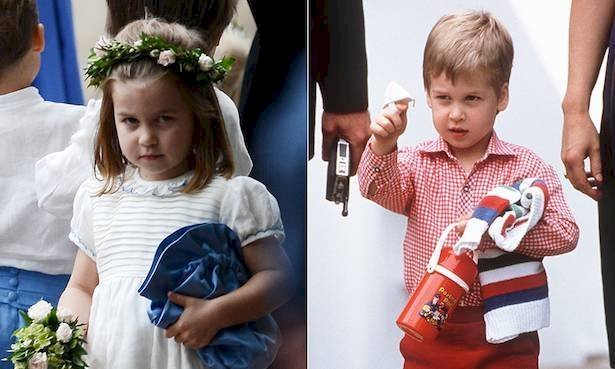 At the royal wedding of Princess Eugenie and Jack Brooksbank on October 18, 2018, Princess Charlotte stole the show as they arrived by car at St George's Chapel.
She cutely waved at the crowd as they pulled up and once they made their way up the steps of the St George's Chapel she stopped and smilingly waved at the crowd once more. Princess Charlotte was one of eight bridesmaids and was seen looking serious as while performing her bridesmaid duties.