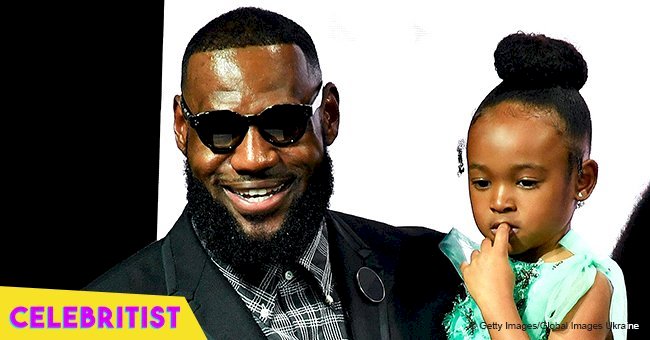 Lebron James' daughter celebrates 4th birthday with epic costume & dance moves in cute clips
Zhuri James turned four years old today and celebrated in style with a superhero costume and spectacular dance moves. Her parents took to Instagram to share cute clips of their baby girl.
NBA superstar, LeBron James was not at home for his daughter's birthday party, and from the look of things, he missed a lot. For one, he didn't get to see the amazing superhero Zhuri in person. The LA Lakers player, however, took to Instagram to wish his only daughter a happy birthday.
Sharing a video of Zhuri in a white and red costume, LeBron, 33, let the world know he wasn't happy about being away from his girl:
"On the low In my feelings right now not being home for my Princess bday celebration but when u have a great team of family around you it allows me to focus in on my job. With all that said HAPPY 4TH BEAUTIFUL DAY to Daddy Princess Zhuri Nova! Enjoy your day to the fullest!!!!"
Considering the close bond between LeBron and Zhuri, it's not surprising that the basketball star is "in his feelings." His social media is enough proof that he loves his daughter dearly, and there's also the time he referred to her as his "inspiration" and "rock."
Last month, as LeBron unveiled his latest shoe line at the Harlem Fashion Row Awards, all attention was on Zhuri who accompanied her dad to the event.
Not only did the athlete accept an award at the event while carrying Zhuri, but he also shared how special she was with the audience. After revealing that Zhuri was one of the 16 black women that inspired the creation and design of the "HFR x LeBron 16," LeBron said:
"This pretty girl right here; this is my rock. I had two boys first, my oldest son, LeBron Jr., and my younger son, Bryce Maximus, and people always told me, if you ever have a girl she'll change you. Three years ago, this bright spot right here happened to our family. And not only did she change me, she's made me a better person. A more dedicated person, a stronger person. I guess a more sensitive person that realized that I have so much more of a responsibility to women in general. So, thank you, Zhuri."
Meanwhile, Zhuri's mother and LeBron's wife, Savannah James, also shared a video of their daughter bursting serious moves in the house to celebrate her big day. "Happy 4th Birthday to my Sweetest Face!!!" she wrote.
Please fill in your e-mail so we can share with you our top stories!