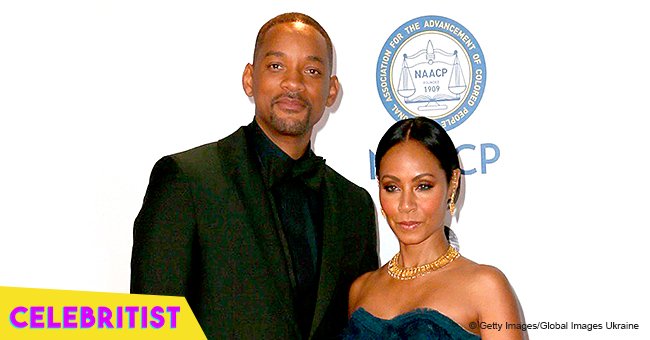 Jada Pinkett Smith heats up talk after revealing she once dated husband's 'Fresh Prince' co-star

Jada Pinkett Smith reveals she first dated Will Smith's "The Fresh Prince of Bel-Air" co-star before she reluctantly married Will.
Will Smith may be "The Fresh Prince of Bel-Air" who stole Jada Pinkett Smith's heart but he wasn't the first member of the show's cast to date her. The couple recently revealed Jada initially dated Will's co-star Alfonso Ribeiro.
During a recent episode of Jada's Facebook Watch show, "Red Table Talk," her husband was her special guest. The show intended to discuss her marriage to the Hollywood A-lister in its two-part "Becoming Mr. & Mrs. Smith" series.
BEFORE WILL
It was during the first half of the series that Jada opened up about how she met her husband of 20-years and who she dated before him.
She recalled auditioning for a role on "Fresh Prince of Bel-Air" where she would eventually meet Will. She also recounted going on a date with Alfonso at least once before dating Will.
"I actually think I dated Alfonso," she says and adds, "I think I went one date together."
Will didn't appear shocked. He even described how her date went with his co-star.
"He, like, took you on a motorcycle or something."
Jada interjects,
"My memory is: I dated a lot of people, but we went on one date."
MEETING WILL
Will and Jada's first encounter happened while the actress was auditioning for Will's show. Though she didn't get the part, she did snag her future husband. At the time, Will was still married to his ex-wife Sheree Zampino who's the mother of Will's 25-year-old son, Trey. However, Jada insists they never cheated on Will's wife.
"We did not have an affair while he was married. Let's be clear about that."
Will adds, "Not at all, not at all."
Will claims he was instantly attracted to Jada upon meeting her and felt a magical energy between them. But because he was married, he didn't act on it. It was only after a dinner with Sheree one day that he broke down and realized he wasn't with the right woman. But he refused to file for divorce. It was Sheree who eventually did despite his reluctance.
MARRYING WILL
A day after he signed his divorce papers, Will pursued Jada who later became pregnant with their son Jaden. The "Gotham" star recalled crying when she learned she was with child. She never wanted to get married. Despite her hesitation, Jada married Will upon the urging of her mother. She recalled "crying down the freaking aisle."
"It was a horrible wedding. It was a mess."
STAYING WITH WILL
Though her wedding wasn't ideal, her marriage certainly turned out to be pure bliss. Will and Jada have been married for 20 years and they have no intentions of leaving each other. In fact, Will recently confessed they're way past calling themselves a married couple. Instead, they refer to each other as "life partners." He explained,
"When you get into that space where you realize you are literally with somebody for the rest of your life. There'sno deal breakers. There's nothing she could do — ever. Nothing that would break our relationship. She has my support till death and it feels so good to get to that space."
And that's how they became and still are Mr. and Mrs. Smith.
Please fill in your e-mail so we can share with you our top stories!