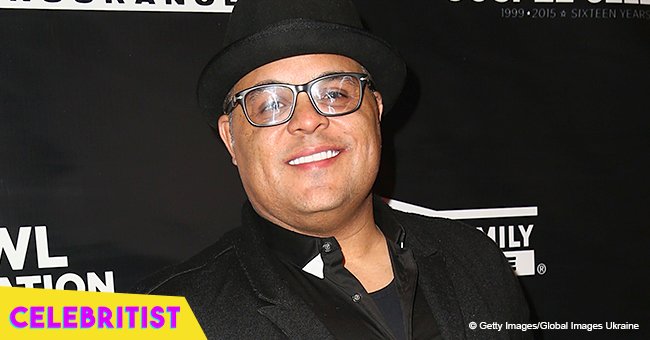 Israel Houghton causes frenzy with slimmer look after dramatic weight loss
Christian music singer and songwriter Israel Houghton took to Instagram to share a slideshow next to his wife, Adrienne, wearing black outfits. His slimmer look attracted a lot of sights.
For the first image, Israel appeared side-hugging his wife while flashing his smile at the camera. Since the photo had a black-and-white filter, the details of their outfits were not clear.
In the second part of the slideshow, however, their clothes were displayed in detail. Adrienne wore black and silver heels, a tight, long-sleeved, black dress that had a high slit and a V-cut that showed her cleavage, and small earrings.
MATCHING OUTFITS
Israel opted for boots, tight black pants, a matching shirt, and a hat. For the caption, the singer set clear that his "Queen" wore "McQueen," tagging fashion designer Alexander McQueen in the post.
REACTING TO THE PHOTOS
As soon as he uploaded that slideshow, his followers took to the comment section to share their thoughts. While some of them praised the couple for always looking so in love, others encouraged Israel to keep up the good work on slimming down as he "is looking super handsome."
LOSING WEIGHT IN THE PAST
Madame Noire reported that neither Israel nor Adrienne, one of the co-hosts of "The Real," have talked about what the man is doing to lose weight. The truth is that it is not the first time he has engaged on a plan to shed some pounds as the couple did something similar in 2016 just before their wedding.
They worked out with celebrity trainer Massy Arias for about two months to get as fit and healthy for their big day as possible. Massy revealed that Adrienne lost 22 pounds and Israel shed 25.
DIGGING INTO THEIR PLAN
Massy admitted that they were not allowed to have alcohol or dairy and that they lost all that weight by eating the right food in the right amount and hitting their pre-set goals every time. Israel's fans can't have enough of his slimmer and healthier look.
SHARING HIS THOUGHTS ON HIS RELATIONSHIP
Israel recently shared how he feels about being married to Adrienne saying that she was the first person who made him feel like he didn't have to hide to be accepted.
"It's the first relationship I've ever been in where I felt celebrated and not tolerated. I'll walk into the house, and there's just this sense of truly, 'welcome home,' and I tell you what, a guy will break his neck to experience that kind of love, that kind of like, that kind of celebration," said Israel.
Please fill in your e-mail so we can share with you our top stories!