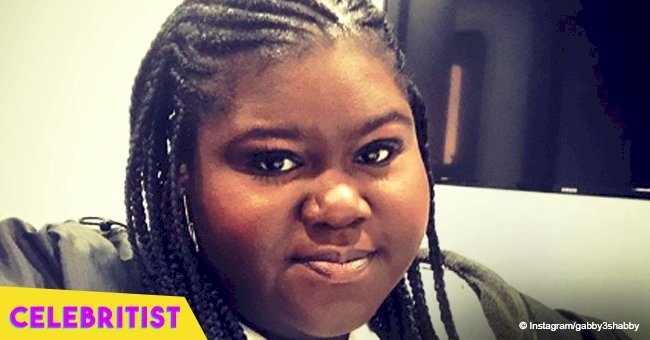 Gabby Sidibe rocks long braids and white tulle skirt in recent picture

"Empire" star, Gabby Sidibe joined in on the tulle trend in a recent photo, and as usual, she brought on the perfect combination of class and confidence.
Rocking a black-and-white striped shirt and a white tulle skirt, Sidibe posed in a mirror selfie. The actress also wore a black jacket and matching ankle boots, and long braids framed her lovely face.
Sidibe, who is known for hilarious captions, proved on trend as she informed her Instagram followers that the glowing quality of the picture was not a filter.
"It's not a filter. It's coco butter on my lens.....again."
Sidibe has always thrilled fans with her ability to be effortlessly hilarious, but ever since she began sporting a slimmer figure, Sidibe has managed to attract more fans who are inspired by her weight loss.
As one person commented on her post:
"@gabby3shabby you look absolutely amazing!! I thought you were beautiful before your weight loss but seeing you here looking healthy and gorgeous is such an inspiration!"- @i.sell.mihomes
Since undergoing laparoscopic bariatric surgery to lose weight in 2016, Sidibe has been proving she can look good in just about anything. Last month, she documented a grocery run where she had her hands full with shopping supplies and a full basket.
The "Precious" leading lady donned a crossword print midi dress that hugged her curves perfectly and paired it with dark sunglasses and a silver necklace.
In another photo earlier this month, Sidibe flaunted an afro hairstyle with grey Nike top and nerdy glasses. Despite the numerous images showing off her incredible figure and sense of style, the award-winning actress has said getting weight loss surgery was only for health reasons.
In an excerpt from her 2017 book, "This Is Just My Face: Try Not To Stare," Sidibe revealed:
"It has taken me years to realize that what I was born with is all beautiful. I did not get this surgery to be beautiful. I did it so I can walk around comfortably in heels. I want to do a cartwheel. I want not to be in pain every time I walk up a flight of stairs."
Please fill in your e-mail so we can share with you our top stories!