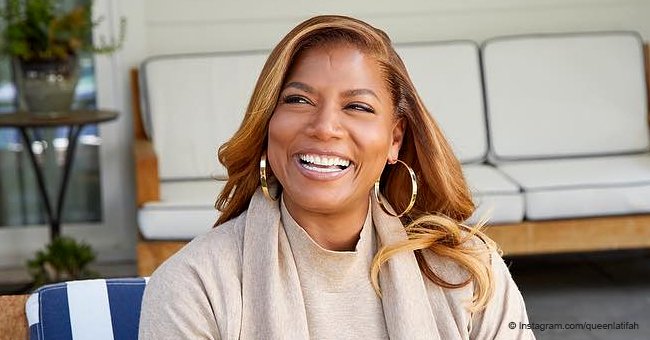 Queen Latifah's ex-girlfriend flaunts curves in burgundy dress & high-heels in recent photo
Jeanette Jenkins, the fitness trainer who used to date actress Queen Latifah, took to Instagram to share a photo of herself rocking a beautiful burgundy dress and heels.
For the picture, Jenkins appeared wearing a tight, long-sleeved, burgundy ensemble that showed some of her lower back due to its design. She paired it with beige high heels that gave her the perfect elegant and chic look.
Apart from her outfit and beautiful physique, her hair also attracted a lot of attention as it was let loose on her back. For the caption, she encouraged her followers to have fun during the weekend and to enjoy their lives.
REACTING TO THE POST
As soon as the fitness trainer uploaded that post, her followers took to the comment section to share their thoughts. Most of them praised Jenkins' body and pointed out that she had a very nice style.
Latifah and Jenkins were first labeled as a couple back in 2010 when both of them were spotted together hugging and taking care of each other while boarding the yacht of Alicia Keys and Swizz Beatz, who were expecting a baby at that moment. However, they never confirmed their relationship.
DATING A MAN
In 2014, Bossip reported that Jenkins was "no longer lesbian" as she was living with a then-22-year-old man named Johnny in her house in Los Angeles.
BEING IN A RELATIONSHIP WITH A CHOREOGRAPHER
Latifah has been linked to film and TV choreographer Eboni Nichols since 2013, when they were spotted together for the first time. As Radar Online reported, Nichols is pregnant and reportedly engaged to Latifah.
In recent photos that the outlet shared, the former Los Angeles Lakers' cheerleader appeared wearing a black ensemble and a colorful cardigan. The most striking aspect of her outing was, undoubtedly, her big baby bump.
SHOWCASING HER BABY BUMP
Apart from that, Nichols was rocking an alleged engagement ring, what might suggest that the couple might be getting ready to announce the big news. It is important to mention that Latifah has always kept her sexuality private and she has not come out as gay.
Latifah recently wowed her fans when she shared her bold new hairstyle on social media posing next to her "Star" colleagues Patti LaBelle and Brandy.
ROCKING A NEW HAIRDO
In the image, Latifah rocked her new haircut - a layered, flame-colored piece with jagged edges. She wore the hair parted to one side and nicely complemented with her outfit: a brown jacket and white top.
Her followers couldn't stop complimenting her, and now that everything suggests that she is expecting a baby and getting married, the compliments and well wishes are going to keep coming.
Please fill in your e-mail so we can share with you our top stories!