Heartwarming photo of white girl and black boy holding hands restores faith in humanity
Two children have changed the way their mothers envision their future to be. Having met on a flight, the young white girl and a black boy became instant friends. They even held hands while walking at the airport. 
Kenya Menzies-People and Nicole McCluskey are the mothers of Shauntay and Kendall, two children who've restored people's faith in humanity. The mothers and their children were recently reunited after their story went viral following a flight where the two kids met.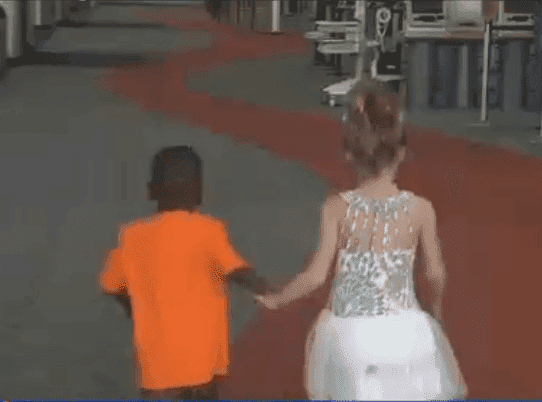 STRANGERS WHO BECOME INSTANT FRIENDS
Shauntay and Kendall formed a friendship after meeting on an Allegiant Air flight to Flint, Michigan from St. Petersburg, Florida. Upon disembarking from their flight, Kendall offered to hold Shauntay's hand as they walked inside the airport terminal. 
The two children walking hand-in-hand caught the attention of a fellow passenger named Monica who took a photo of them. She later revealed she was seated on the plane next to Shauntay's mother whose name she never got.  She posted the image on Facebook in order to share the positive vibes the kids gave her as well as locate their mothers. She never met Kendall's mother. She only knew Kendall's name. 
SEARCHING FOR THEIR MOTHERS
In her post, she asked for help to find the mothers so she could forward them the photo of their adorable children. She also addressed the message that it represented – a color-free world.
"I flew home from St Pete's last night, next to a wonderful woman from Saginaw. I would love for her to find this picture, but I never caught her name. The little boy in this photo is hers, These two kids were total strangers and the little girl just scooped her little man's hand right into hers! This is our future, this can && should be our future- colorfree, yet so colorful help me find her!"
Monica's post went viral and she soon made contact with Shauntay's mom. TV 5 reached out to Allegiant Airlines who helped locate Kendall's mom.
THERE'S HOPE FOR HUMANITY
The families were reunited at the terminal with Allegiant Air's help.  They spoke to WNEM about their children's story. Shauntay's mother described it as "kids being kids and added,
"When left to their own devices everybody is naturally nice."
Nicole agreed and said,
"It just tells you that we do need more good in the world and this was a prime example and gives us hope."
Kenya is enlightened by the thought that "something pure and innocent" still exists despite all the bad things happening in the world. 
The two families were each given a gift of $100 off by the airline as well as free parking at the Flint airport. All because two young strangers did the most natural thing despite their differences.
TODAY'S REALITY
If only people saw the world as innocently as these two children then there wouldn't be any cases of young black children being discriminated. Much like a six-year-old black boy who was kicked out of his school just because he was wearing dreadlocks. Or a 9-year-old boy who was accused of sexually assaulting a white woman only to find out that it wasn't his hand that graced the woman's backside but his backpack.
NEW: Surveillance footage proves white woman who called 911 on a young black child claiming he groped her - was wrong @PIX11News #CornerstoreCaroline Full story at 5 pic.twitter.com/agTK0MpgUG

— Andrew Ramos (@AndrewRamosTV) October 12, 2018
Stories like these have a very traumatic impact on children who should be growing up in a world filled with love, not hate. Thanks to Monica, Shauntay and Kendall, we are enlightened by the possibility that someday, with the help of these children, the world will be a better, color-less place.