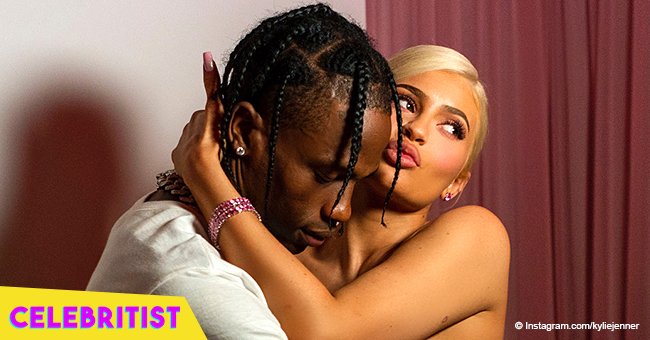 Kylie Jenner & Travis Scott enjoy family time with baby Stormi at her first pumpkin patch in photos
Stormi Jenner sits amid a field of pumpkins during a fun-filled day at the farm with her parents. Photos also reveal Kylie Jenner and Travis Scott doting on their little one.
Doting parents Kylie Jenner and Travis Scott are making the most of the Halloween season. Ahead of the festivities, the couple gave their daughter, Stormi her first pumpkin patch experience.
FUN AT THE FARM
Photos of the family's outing were shared by Kylie on her Instagram. They featured the reality star's 8-month-old daughter enjoying a fun-filled adventure at the Underwood Family Farms in Moonpark, California.
In one of the snaps she shared, Stormi was made to sit among rows of pumpkins featured annually in the farm's Fall Festival.
"First pumpkin patch," her mother wrote to caption the precious moment.
HUGS AND KISSES
Other photos revealed the strong bond Stormi shares with her parents. She received an affectionate kiss from them while seated on a multi-level haystack.
She also spent one-on-one time with each of them. She sat with her rapper father next to a cornfield as he hugged her and smooched her cheeks. She also fed baby goats with her mother.
ANOTHER BABY
Stormi has been giving her parents abounding joy since they welcomed her early this year. She even has her mother thinking of having another child. Kylie recently confessed this to her best friend Jordyn Woods in a Snapchat Q&A. When asked if she was going to have another baby, she expressed interest.
"I want another baby but, 'When?' is the question and I'm definitely not ready right this second."
Kylie revealed she would "definitely want another girl." She admitted considering names for her second child, something "really feminine" she said.
CELEBRATING EIGHT MONTHS
In the meantime, Kylie is grateful for the time she has with Stormi. She posted a slideshow to mark the day the little girl turned eight months. The three-photo series revealed a mother's love for her daughter. They were together on a couch sharing sweet hugs and infectious smiles.
"I couldn't be more happy and more sad at the same time," the sentimental mom wrote, aware of how quickly time flew.
Stormi is a lucky child to have a young mother who's devoted to her and a father who's made her the apple of his eye. There's bound to be many more memorable firsts in the little girl's life courtesy of her loving parents.
Please fill in your e-mail so we can share with you our top stories!