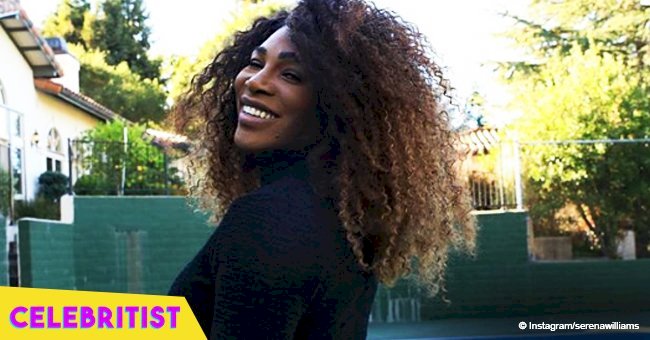 Serena Williams's daughter looks like a little princess in her bib with pearls in new photo
Serena Williams' daughter is only one year old but is already a style icon in her right. This time, Olympia Ohanian proves that wearing bibs can be fun.
In a recent Instagram photo, Olympia smiled at the camera as she enjoyed a "breakfast" from her pink plate. Balanced at the table in her high chair, the curly-haired tot also held on to a green sippy cup.
What was most interesting about Olympia, however, was her stylish bib. Honestly, it's a bib in its own class.
While most people see it as a protective item worn by babies, Olympia switched things up with one that featured two strands of glued-on pearls. What's more, the faux pearls fit right in with her lacy white outfit visible under the bib.
Olympia is no stranger to modeling cute outfits and having the internet go "Awww" at her antics. Last month, she looked regal in a floral kimono set brought from a business trip by her Tech mogul "Papa," Alexis Ohanian.
There was also the famous "Relax. My aunt's a nurse" t-shirt Olympia wore in August, the miniature versions of her mother's tutu tennis costumes, and many more.
But beyond being a stylish princess, Olympia is also quite the handful. Serena took to Instagram last week with a surrender declaration. Alongside a photo of her standing in her toy-strewn living room, the tennis superstar said:
"Sometimes I have to throw my hands up in the air #thismama used to have a living room. Now I just have a play room. When did that happen?"
Serena's once-stylish living room looked more like a haven for Olympia's play objects, including a toy dog, a tree, a slide, blocks, stacked rings, and a Fisher Price set.
Meanwhile, Alexis also hinted at their daughter's activeness last month when he caught her on camera dashing through the house. The doting dad aptly described Olympia as "Baby Flash."
Despite this, Serena says she finds it fun to look after Olympia. The 37-year-old told People in September:
"It's been so hard balancing being a mom and starting my clothing line, as well as playing a professional sport! However, it is the challenge that makes it fun! … I get a good workout chasing her around the house!"
Please fill in your e-mail so we can share with you our top stories!