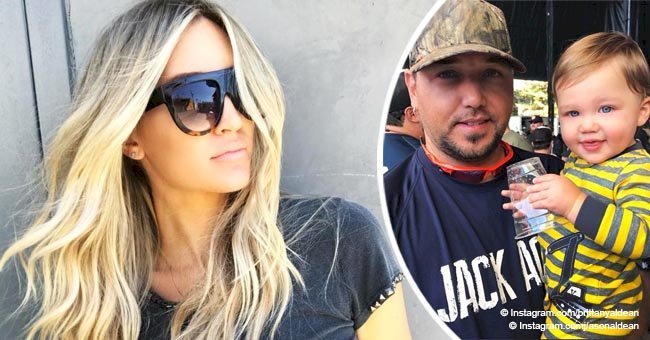 Jason Aldean's wife flaunts baby bump in tight leggings, revealing due date to fans
The couple, Brittany and Jason Aldean are currently expecting their second child, a sister to little Memphis, who was born in December 2017.
Husband Jason commented earlier in the year that he and Brittany always wanted to have two children, and they wanted all the tough parts of parenting such young kinds over as soon as possible and said:
"Our theory is, 'Hey, we got one in diapers and formula right now so, while we're in this mindset we might as well knock it out. We both agreed that we wanted to have two. I have two older daughters and there's a pretty big age difference in my two older daughters and Memphis, so we wanted to have one who's a little closer in age to him so he has somebody to hang out with."
Read more on our Twitter account @amomama_usa.
31-year-old Brittany took a picture of herself wearing black leggings covering her bump and black t-shirt and posted it to Instagram where she shared the new picture showing off her baby bump and wrote 'Bump update, 24 Weeks.'
On Wednesday Brittany shared on her Instagram Story that she's busy getting their new baby girl's closet ready, the clip shows the space featuring some baby clothes and labeled empty baskets, and added:
"It's very bare right now because I don't really have anything."
With Brittany now at 24 weeks she would be due at around February 12, and the birth of the little girl would be close to that of the older sibling Keeley, from Jason's first marriage, who was born on February 14.
The family is currently enjoying some quiet time together after Jason finished the High Noon Neon Tour with guests Lauren Alaina and Luke Combs at the end of September.
The timing was perfect as Jason and Brittany were home to see their little son Memphis take his first steps earlier this month and shared the video on Instagram.
Right now, the Aldean family is enjoying some downtime at home after wrapping up the High Noon Neon Tour with special guests Lauren Alaina and Luke Combs at the end of September. As previously reported, Jason and Brittany are expecting a baby girl and are currently building their dream home in Tennessee.
The couple is big on celebrating and enjoying special moments and milestones in both their own relationship and that of their children as seen during a rare night out at the 2018 CMT Awards earlier this year in June.
The CMT Awards are voted on by fans and Jason Aldean got nominated in two categories for his song, 'You Make it Easy,' for Video of the Year, and Male Video of the Year.
However, the couple could not help but gush about something else. Their son Memphis reached a special milestone as Jason said:
"We had a big milestone this week. He got his first tooth."
The doting couple was excited and even though he would have more teeth soon it was his first, and they are surely looking forward to all the new milestones to come with the arrival of their second child due in February 2019.
Please fill in your e-mail so we can share with you our top stories!