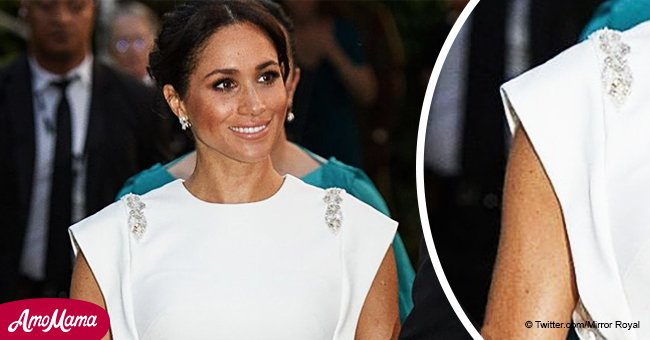 Here's why Meghan Markle's arms shine so bright during the royal tour
The pregnant Duchess of Sussex displayed an extraordinary glow during an evening event in Tonga.
Duchess Meghan spent most of her time in on the Tonga leg of the Royal tour wearing long sleeves, and when she had to attend an evening event that required evening wear, fans noticed that her bare arms displayed an unusual glow, reported People.com on October 25, 2018.
Some might have attributed it to the traditional "shine" so many pregnant women acquire, but as radiant as the Duchess may be, this gleam came from a bottle of cream: Insect repellant.
"The advice would be to wear a repellent which contains an active ingredient and wear that repellent all day and all evening,"
Professor James G. Logan, People.com on October 25, 2018.
A DANGEROUS DISEASE TRANSMITTED BY MOSQUITOS
The Duchess had not participated in the visit to Fiji's forests, leaving her husband to go alone since the Zika virus is endemic to the South Pacific Islands and several cases have been registered in both Fiji and Tonga.
According to Professor James G. Logan - Head of the Department of Disease Control at the London School of Hygiene and Tropical Medicine - the liberal application of insect repellant is essential since the Zika virus is transmitted by mosquitos.
A DEADLY DANGER PARTICULARLY TO PREGNANT WOMEN
The Zika virus belongs to the family of the dengue, yellow fever, Japanese encephalitis, and West Nile viruses. Unlike its cousins, Zika does not kill its victims. Its danger is in the infection of pregnant women and its transmission to the unborn child. The effects of Zika on the fetus range from microcephaly, to cognitive dysfunction in later life.
A HIGH-RISK STOP ON THE ROYAL ITINERARY
The World Health Organization has classified Tonga as a "Category 1" risk area with the recorded ongoing transmission of the Zika virus in the population. The Duchess, now 4 months pregnant, was certainly wary of the danger and has taken every precaution.
RADIANT IN A SPARKLING WHITE GOWN
Though her shimmering arms took the headlines, the Duchess' gorgeous evening dress was impossible to ignore. The Duchess wore the dress to a reception at the Consular House in central Nuku'alofa for His Majesty King Tupou VI and Queen Nanasipau-u of Tonga.
Read more on Twitter Amomama USA.
AN ELEGANT ENSEMBLE FOR A ROYAL RECEPTION
The Duchess of Sussex, who has become a fashion icon since her wedding in May 2018, wore a floor-length white gown by New York designer Theia.
The dress featured sparkling shoulder details, and Duchess Meghan accessorized it with a striking aquamarine dress ring from the late Princess Diana's jewelry collection.
Her dark locks were upswept in a more classical style than her usual soft chignon, and she wore elegant diamond earrings by Birks. Her shoes were her favorite Aquazzura Deneuve heels, and she held a black clutch bag by Givenchy. Altogether a vision of loveliness and flawless elegance.
Please fill in your e-mail so we can share with you our top stories!