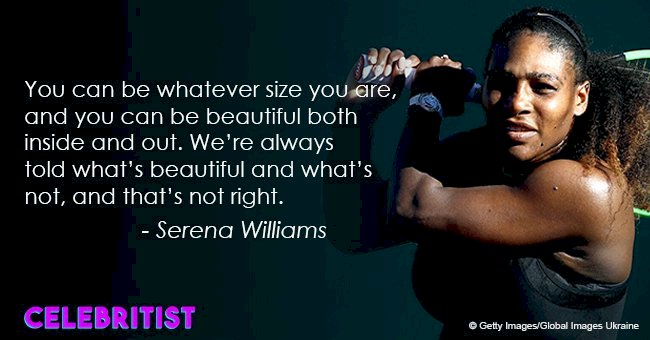 Serena Williams quotes that will inspire you to success
Serena Williams is one of the most influential women in recent times not only because of all she has accomplished in the tennis world but also because of all she has been through.
Even though she got racist insults for being a black girl playing tennis when she was younger, Serena managed to overcome those adverse situations and, thanks to her hard-working personality, she stayed in the first place of the ATP rankings for a long time.
Recently, she shared some aspects about the birth of her daughter, Olympia, revealing that after undergoing an emergency C-section, doctors discovered an embolism in her lung along with a blood clot in her leg. She had to undergo another surgery to save her life.
Thankfully, she is a strong woman who managed to recover from that life-threatening situation. For those reasons, we gathered together some of the most iconic quotes she has said as a way to inspire you to be better each day.
"Growing up I wasn't the richest, but I had a rich family in spirit. Standing here with 19 championships is something I never thought would happen. I went on a court just with a ball and a racket and with a hope."
"Think of all the girls who could become top athletes but quit sports because they're afraid of having too many defined muscles and being made fun of or called unattractive."
"I decided I can't pay a person to rewind time, so I may as well get over it."
"I think you have to love yourself before you fall in love. I'm still learning to love myself."
"I don't like to lose — at anything… Yet I've grown most not from victories, but setbacks. If winning is God's reward, then losing is how he teaches us."
"There's one thing I'm really good at, and that's hitting the ball over a net, in a box. I'm excellent."
"Family's first, and that's what matters most. We realize that our love goes deeper than the tennis game."
"With a defeat, when you lose, you get up, you make it better, you try again. That's what I do in life, when I get down, when I get sick, I don't want to just stop. I keep going and I try to do more. Everyone always says never give up but you really have to take that to heart and really do never definitely give up. Keep trying."
"I am lucky that whatever fear I have inside me, my desire to win is always stronger."
"You can be whatever size you are, and you can be beautiful both inside and out. We're always told what's beautiful and what's not, and that's not right."
"I always believe I can beat the best, achieve the best. I always see myself in the top position."
"The success of every woman should be the inspiration to another. We should raise each other up. Make sure you're very courageous: be strong, be extremely kind, and above all be humble."
"I'm definitely not a fearless individual."
"I really think a champion is defined not by their wins but by how they can recover when they fall."
"You have to believe in yourself when no one else does."
"I've had to learn to fight all my life – got to learn to keep smiling. If you smile things will work out."
"Since I don't look like every other girl, it takes a while to be okay with that. To be different. But different is good."
"Everything comes at a cost. Just what are you willing to pay for it?"
"Luck has nothing to do with it, because I have spent many, many hours, countless hours, on the court working for my one moment in time, not knowing when it would come."
"I think in life you should work on yourself until the day you die."
"Everyone's dream can come true if you just stick to it and work hard."
"It doesn't matter what your background is or where you come from, if you have dreams and goals, that's all that matters."
"If Plan A isn't working, I have Plan B, Plan C, and even Plan D."
"Don't let anyone work harder than you do."
"Make sure you're very courageous: be strong, be extremely kind, and above all be humble."
"Victory is very, very sweet. It tastes better than any dessert you've ever had."
"If I don't get it right, I don't stop until I do."
"Overpower. Overtake. Overcome."
At the moment, Serena is still competing at the highest level of tennis and has been involved in some other projects, including a breast cancer awareness campaign for which she went braless and sang "I Touch Myself."
Please fill in your e-mail so we can share with you our top stories!