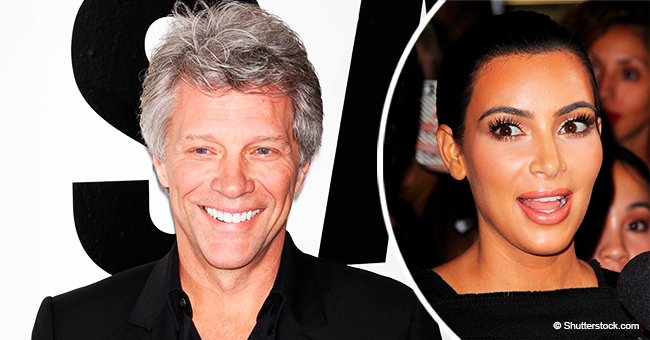 Jon Bon Jovi slams Kim Kardashian and 'Real Housewives' in a sarcastic but sincere interview
Jon Bon Jovi has dissed modern celebrity culture and target Kim Kardashian in particular.
Jon Bon Jovi, the 56-year-old rock star who heads the band "Bon Jovi" and has sold over 130 million albums worldwide, expressed his contempt for the modern celebrity culture that idolizes reality stars and people whom he accuses of doing nothing worthy of note.
He was particularly harsh about the reality shows "Real Housewives" and targetted Kim Kardashian personally, reported the Daily Mail on October 28, 2018.
'I think it's horrific that we live in that world and I can tell you I've never given 60 seconds of my life, EVER, to one of those Housewives of Blah Blah and Kardashians.'
FAMOUS FOR BEING FAMOUS
Bon Jovi pointed out that today's celebrities are simply famous for being famous and consist of people who gained notoriety for exposing their personal lives to a voyeuristic society.
For him, he said, anyone worth their celebrity status should go out and achieve something trully noteworthy on their own merit; write a song or a book, paint a picture, make a movie.
"WHAT'S GONNA BE IN YOUR AUTOBIOGRAPHY? 'I MADE A PORNO AND GUESS WHAT I GOT FAMOUS.'"
Referring in particular to Kim Kardashian, Bon Jovi attributed her claim to fame to the notorious 2007 sex tape that was leaked by a former lover and first brought her to the public's attention.
KIM KARDASHIAN'S SEX TAPE
A private sex tape made by Kardashian and Ray J in 2003 was leaked.in 2007 and later distributed by Vivid Entertainment as "Kim K Superstar."Kardashian settled out of court for US$5 million and saw her celebrity status skyrocket.
KARDASHIAN PARLAYED HER CELEBRITY INTO SUCCESS
Curiously, by Bon Jovi's criteria, Kardashian has made a name for herself as a singer, having released a dance-pop song called "Jam (Turn It Up)", and acted in films like "Disaster Movie" and "Temptation."
It's well known that Bon Jovi attempted to launch a reality show focusing on how rock stars would handle real life without their managers and entourage, but the concept was turned down. Could Bon Jovi's rant carry the tinge of sour grapes?
THREE DECADES OF MUSIC AND THE ROCK & ROLL HALL OF FAME
If anyone can be said to have won his stripes the right way, it was Jon Bon Jovi.
Bon Jovi and his band may indeed be entitled to point the finger at today's overnight celebrities.
Bon Jovi began playing music with his first band Raze in 1975, at the age of 13. His path was set, and he continued playing in several bands until he founded Bon Jovi in 1983.
The band featured Bon Jovi as lead vocals, David Bryan on keyboardist, drummer Tico Torres, guitarist Phil X, and bassist Hugh McDonald.
The band would go on to release 13 studio albums, six compilations, and three live albums. They have sold more than 100 million records worldwide, making them one of the bestselling American rock bands.
Bon Jovi has performed more than 2,700 concerts in over 50 countries for more than 34 million fans. In 2018 Jon Bon Jovi and his band were inducted into the US Rock and Roll Hall Of Fame.
Please fill in your e-mail so we can share with you our top stories!