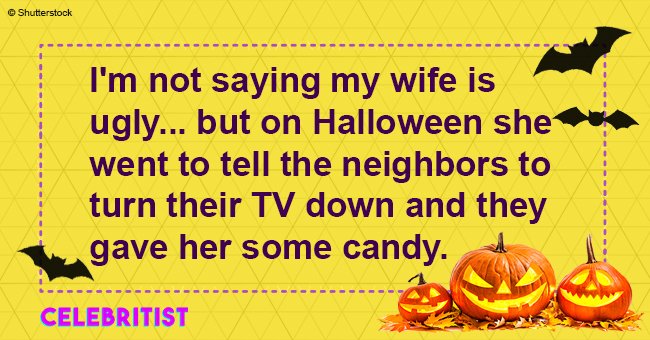 6 Halloween jokes that will make you laugh to tears
Even though Halloween is supposed to be the scariest night of the year, these stories will make you learn that it can also be the funniest one.
Here's a compilation of jokes about that time of a year when people put on their best costumes and go out knocking on the doors asking for candies.
TRICK OR TREAT?
I'm not saying my wife is ugly...
but on Halloween, she went to tell the neighbors to turn their TV down, and they gave her some candy.
NOT FEELING THE HALLOWEEN SPIRIT
Halloween is easily the scariest night of the year. What's up with the dead rising from their graves...
and fat girls thinking they look sexy dressed as cats.
DEALING WITH A WITCH
Last Halloween, there was a knock on the door. I looked out of the window and then shouted upstairs to my wife, "Honey, there's a witch at the door. What shall I do?"
She shouted back, "Just give her some candy and tell her to get lost."
My mother-in-law hasn't spoken to me ever since.
TAKING HALLOWEEN TO THE NEXT LEVEL
My wife said to me yesterday, "Honey, I think we should do something really scary for the kids this Halloween."
I said, "Well, we could always take them to your mother's."
THE UGLY TRUTH
Son: "What are you going to be for Halloween, dad?"
Me: "Drunk"
Son: "What's mom going to be?"
Me: "Mad"
A CLEVER COSTUME
A young boy knocked on my door on Halloween night and said, "Trick or treat?"
I looked at him and asked, "What have you come as?"
He said, "A werewolf."
I said, "But you're not wearing a costume. You've just got your normal clothes on."
He said, "Yeah well, it's not a full moon yet, is it?"
We are sure that your friends will also love to crack up, so don't forget to share these jokes with them so they could get into the Halloween spirit.
Please fill in your e-mail so we can share with you our top stories!