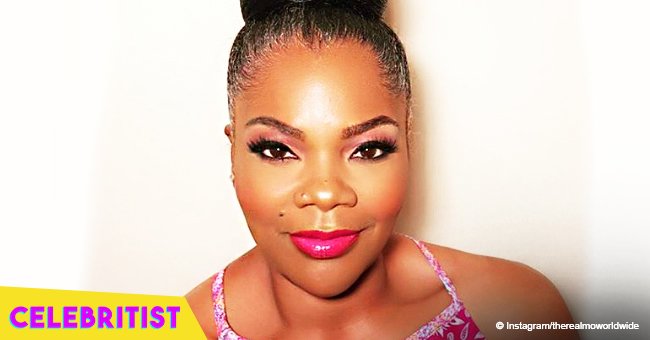 Mo'Nique, 50, defies her age in bright red dress with purple lipstick after 100-lb weight loss
Mo'Nique looks stunning as she flaunts her slimmer figure in recent Instagram pics. After losing 1000 lbs, the actress keeps encouraging other women to work hard so they can go through their weight loss transformation.
Mo'Nique has become an example for many women who want to lose weight without going under the knife or starving themselves to lose some pounds. The Academy Award winner has been sharing her weight loss journey for the past three years, and her hard work is paying off incredibly.
STUNNING IN RED AND PURPLE
In a recent pic posted to her Instagram, Mo'Nique's beauty defies time, as she rocked a bright red dress that hugged her curves and combined it with a vibrant purple lipstick to enhance her facial features. She tied her long locks in a high ponytail while posing at the bottom of a flight of stairs giving the camera a seductive stare.
"DON'T GIVE UP ON YOU. DON'T GIVE UP ON THE FAMILY YOU ASKED FOR," she captioned the photo.
Fans immediately filled her comment section with praises:
"You give me LIFE, Queen! I'm so f'n frustrated with this weight issue. But, I need to love myself at ANY weight/body I'm in because it's a blessing and a miracle to be in great health and ALIVE!!!!" - @miraraye
"You are so gorgeous. You looked great back in the day, and you still do now. Just beautiful thank you for sharing your journey getting healthier." - @trish4real
"Alright Now Sister Monique. You're DEFINITELY Wearing That Dress. So proud of your Growth and Transformation. God's Continued Blessings." - @motherslove247
"You're such a motivation to me!! You look absolutely amazing!! I hope to be your size one day." - @thatpretty_gurl_p
UNDER 200 LBS FOR THE FIRST TIME IN 33 YEARS
Earlier this year, the 50-year-old was excited to share with fans the most significant milestone in her weight loss journey, revealing that for the first time in her adulthood, she was weighing under 200 lbs.
"I said that I would share this journey with you all, the weight loss and getting healthy," Mo'nique said in a video. And continued,
"And today when I got on the scale since I was 17 years old, I've been over 200 lbs. Today was the first time in my adult life that I've been under 200 lbs. So I wanted to let you all know it's possible, we can do it, and we can get there."
She then went on to reveal she did it by working hard and eating healthy. She didn't rely on appetite suppressants, surgeries, or any other kind of cheating method. Instead she "danced her weight off," and continues to do it.
One of her most recent Instagram posts shows the actress dancing to Cardi B's "I Like It" while in the middle of a photo shoot. She rocked jeans and a stylish t-shirt with a belt cinching her waist, as she moved her hips to the rhythm of the song.
Mo'Nique continues inspiring people with her words, as she encourages everyone to put in the effort and believe in themselves while doing so.
Please fill in your e-mail so we can share with you our top stories!