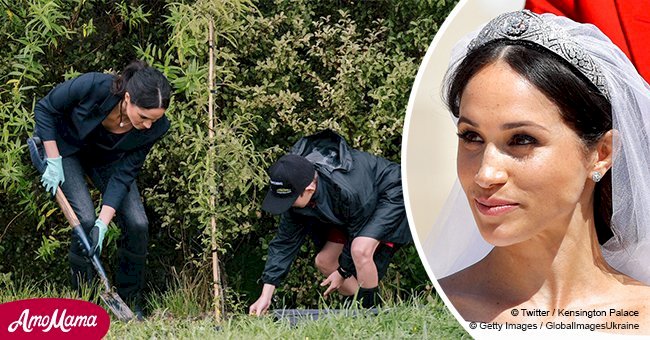 Meghan Markle planted trees with the same flowers that were embroidered on her bridal veil
During the royal couple's visit, they helped plant some trees and taught some wellie-wanging (rain boot throwing) by a group of local children before the planting got underway.
On day 15 of their royal tour, Prince Harry and Meghan Markle went to Redvale, north of Auckland in New Zealand to dedicate 20 hectares of forest to the Queen's Commonwealth Canopy scheme.
The day started off on a light-hearted note as they opted for the welly-wanging competition before heading off to plant some trees. The royal couple joined a group of children to see who would be crowned rain boot throwing champions for the day, at least the rain that arrived with them did not dampen spirits as the competition got underway soon after.
Read more on our Twitter account @amomama_usa.
Prince Harry went first, throwing a blue and yellow spotted welly for his 'yellow' team, being two pupils from Pinehill Primary School, while Meghan threw last for her 'red' team, which ended up clinching the title to award the 'red' team with the 'gumboot throwing competition' trophy.
Meghan planted a kowhai tree, which is native to New Zealand and often found next to streams or on the edges of forests, it is also the traditional flower she picked to represent New Zealand on her stunning wedding veil. Prince Harry chose a Puriri tree which can grow up to 20m high.
The Duchess surprised Prince Harry on their wedding day by including wildflowers from each of the 53 Commonwealth countries in her veil and said:
"It was important for me, especially as a part of the Royal Family, to have all 53 of the Commonwealth countries incorporated. And I knew that it would be a fun surprise as well for my now husband, who didn't know."
The gesture showed her dedication to the Queen's work and was a surprise to both her husband to be and her new family and added:
"He was really over the moon to find out that I would make this choice for our day together, and I think the other members of the family had a similar reaction and appreciation for the fact that we understand how important this is for us, and the role that we play, and the work that we're going to do in the Commonwealth countries."
On Tuesday an earthquake hit near Taumarunui in New Zealand with a 6.2-magnitude and said to be one of the largest to hit the country since November 2016, when a 7.8-magnitude quake struck near Kaikoura.
People reported feeling the quake in Christchurch and at least two planes had to abort their landing schedules in Wellington.
Prince Harry and Meghan were said to be unaffected by the quake and were seen performing their royal duties later in the day when the couple arrived at Courtenay Creative in Wellington, greeted by actors dressed in medieval costume.
Please fill in your e-mail so we can share with you our top stories!