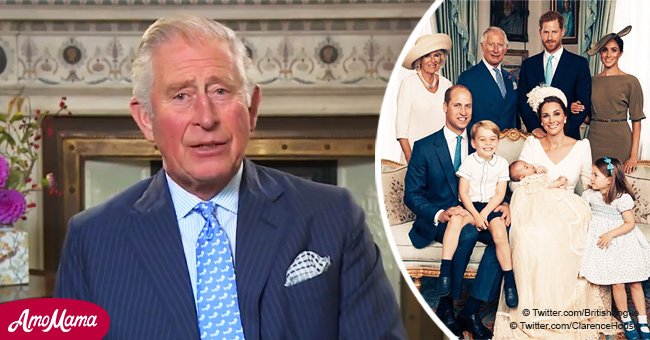 Prince Charles reveals a glimpse of all three grandchildren's photo in a lovely frame behind him
Prince Charles displayed a photo of all three grandchildren taken from Prince Louis' christening.
Prince Charles is the grandfather of three young children, with one more on the way due in the Spring of 2019.
The Prince of Wales, 70, displayed a photograph of his youngest grandson Louis' christening. The photo features his sons William and Harry; his daughters-in-law Kate and Meghan; his wife Camilla and his three grandchildren.
The photo could be clearly seen over the Prince's shoulder in an interview posted on Twitter/ Clarence House on October 30, 2018, on the eve of the Heir to the Throne's departure on a tour of Africa.
"It's a different part of your life. The great thing is to encourage them. Show them things to take their interest. My grandmother did that, she was wonderful.It is very important to create a bond when they are very young."
Charles, Prince of Wales, Twitter/ Clarence House, October 30.
A SWEET FAMILY FOTO OF THE ROYALS
The photograph is placed on a table next to the fireplace and is one of the official portraits from Prince Louis' christening in July 2018.
This is the first official photo to feature all 3 of the Prince of Wales' grandchildren: George, Charlotte, and Louis of Cambridge - children of his older son by the late Princess Diana, William, Duke of Cambridge and his wife Catherine.
PRINCE GEORGE OF CAMBRIDGE
Prince Charles' oldest grandson is Prince George of Cambridge, who is 3rd in line for the throne, after the Prince of Wales and his father, Prince William. George was born in 2013 at Mary's Hospital, London, United Kingdom and is now a boisterous 5-year-old who has just started school.
THE LITTLEST PRINCESS
George was followed by his younger sister, Princess Charlotte, who was born in 2015 and is now 3. Christened Charlotte Elizabeth Diana, she was named for her grandfather, her grandmother and her great-grandmother, the Queen. Before George was born, the law was changed to ensure that the order of succession is not determined by gender, and so Princess Charlotte of Cambridge is 4th in line to the Throne, even though she has a little brother.
PRINCE LOUIS, THE ROYAL BABY
Prince Louis of Cambridge is the baby of the family born on April 23, 2018. But Louis won't hold on to his laurels for long. His Uncle Harry and his Aunt Meghan are about to present him with a little cousin.
The announcement was made by Kensington Palace on October 15, and the Prince of Wales revealed that he had toasted the happy news several times.
THE PRINCE OF WALES PLANTED A TREE FOR GEORGE
Prince Charles is a keen gardener
and a life-long conservationist, and an advocate for the environment. These are values which he is passing on to his grandchildren, and he started by planting trees for his first grandson, Prince George in 2013.
He planted the trees in the arboretum at his Scottish home of Birkhall, and in a forthcoming documentary "Prince, Son and Heir: Charles at 70" he revealed that he called it "George's Wood:"
"As I get older, all I really long for is to plant trees. I hope it will be quite amusing for George, as they grow up, and he grows up."
Prince Charles' second wife, Camilla, Duchess of Cornwall, also appears in the documentary, and commented on the tree's exceptional growth:
"You can't believe how much it's grown. It was tiny when it was all planted. The next thing you know, you're being dwarfed by it."
Charles' son Prince Harry recently praised his father's commitment to environmental issues, citing his Prince Charles' speeches from 50 years ago as still relevant at the Australian Geographic Society Awards,
Please fill in your e-mail so we can share with you our top stories!