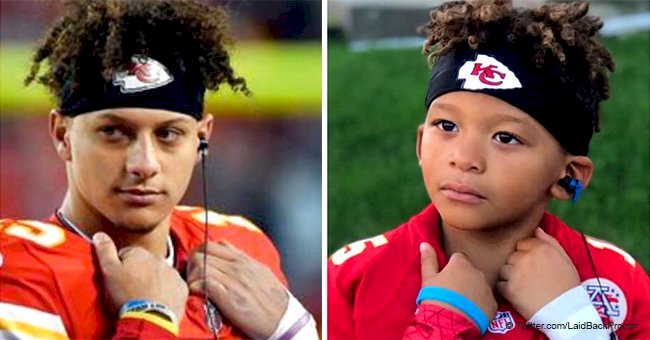 6-year-old boy goes viral for Patrick Mahomes Halloween costume
A 6-year-old boy turned heads in stunning Patrick Mahomes Halloween costume. The little boy's costume went viral after being posted to Twitter.
After Patrick Mahomes lead the Kansas City Chiefs to a 7-1 record, eight weeks into the season, he became an idol to many young people. Everyone wants to be him.
Jaxson Proctor, like his mother, is a huge Chiefs fan. So when people kept telling him he looked like the Chiefs quarterback the smart first grader knew it would be the perfect Halloween costume.
The cute 6-year-old is a die-hard football fan. So this seemed like the only logical costume for Halloween for little Jaxson was to go as Patrick Mahomes.
HOW DID IT GO VIRAL?
His mum and uncle shared pictures of the little boy's costume on Facebook and Twitter respectively. The tweet caught Mahomes attention and he retweeted it.
After the retweet, the little boy went viral. The tweet alone got more than 11,000 likes.
THE COSTUME:
Jaxson had seen Mahomes giving tips on how to achieve his look last week and used them to perfect his look.
@MGoBuilder said "The attention to detail is impressive"
Jaxson sported a red number 15 jersey, black headband and red arm warmer. He had a white wristband on the other arm and one earphone plugged in.
The brilliant outfit was completed with little details like the blue wristband Mahomes always has on. Jaxson has even perfected Mahomes signature pose.
Jaxson was thrilled that Mahomes retweeted him. He hopes to one day meet his hero.
PREVIOUS VIRAL COSTUME FROM THE PROCTOR FAMILY
Besides Jaxsons amazing costume, his brother, Jayden, had gone viral before. he dressed up as former President Barack Obama and his friend dressed up as Michelle Obama.
The image of the pair was later posted by Michelle Obama on her Instagram. It received over 147,000 likes.
Besides the Proctor's killing Halloween this year, another little kid is also making waves. The 22-month-old ran around in an epic LED light -up costume in another viral video.
But the ultimate question still remains. How will the Proctor's top their latest viral Halloween costume next year?"
Please fill in your e-mail so we can share with you our top stories!