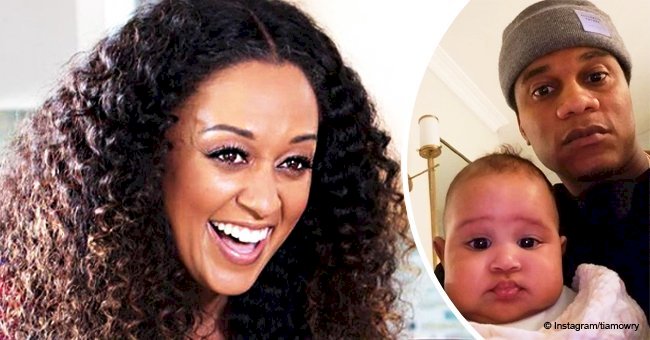 Tia Mowry shares a selfie of daughter Cairo and husband Cory that made her laugh non-stop
Tia Mowry's baby girl is quite the funny one. The actress shared a recent photo of her daughter and her husband that left her laughing non-stop, and it's sure to have you laughing too.
Yesterday, the "Sister Sister" alum took to Instagram with a cute daddy-daughter photo of Cairo Tiahna Hardrict and Cory Hardrict. In the selfie, Cairo's outfit was not very visible but showed a glimpse of white, and Cory appeared to be wearing a black t-shirt and a gray beanie.
The humor element, however, was in the serious faces father and daughter gave the camera. Cairo's was even more hilarious thanks to her chubby cheeks and adorable pout.
CAIRO HAS FANS, TOO!
Tia said in the caption that she couldn't stop laughing, and apparently, most of her over five million followers felt the same way too. One fan gushed, "This pic is golden. Those faces!"
Another said: "Listen, I would not be able to stay away from those cheeks!!! Just adorable!!"
One Instagram user even implied that Cairo would make a good actress, saying:
"If this lil Girl don't have her Dad's @coryhardrict acting ability with these facial expressions I don't know who does!! Her lil Face says so much and she not even talking!!! #sheissuchacutie!"
THE MOM LIFE
Since welcoming Cairo earlier this year, Tia has been sharing numerous photos and videos of her baby girl. Her close bond with Cairo comes as no surprise as she once admitted practicing attachment parenting.
In a piece she wrote for Momtastic, Tia said there was no conscious decision to go with the parenting style. Instead, the nature of her job made it a perfect choice.
"Being a working mom, my hours are crazy, so I do enjoy things like letting Cree sleep with me in bed and taking him everywhere with me. On the other hand, I do experience struggles. …and it is mostly based in the judgment of others. …however what I believe is there is no right or wrong way to parent a child."
MAKING CHOICES
The "Tia Mowry At Home" host also told Yahoo Parenting in 2015 that she's less of a traditional mom than her twin sister, "The Real" co-host Tamera Mowry. At the time, Tia only had her first son, Cree, who is now seven.
"She doesn't co-sleep, and I do," the star said of her sister. "I also never pushed my son to walk, and I won't do 'cry it out' [sleep training]. Cree only started sleeping in his own bed when he was three and a half. My husband was fine with that."
TEN YEARS OF LOVE
Tia and Cory who is also an actor, celebrated ten years of marriage in April, a month before Cairo was born. The lovebirds both took to social media to declare their love for each other, and Tia shared a particularly cute picture featuring their son.
The Hardricts welcomed Cairo on May 5, and the little one is already proving to be a daddy's girl. About a week ago, Cairo and Cory paid a visit to Tia on her first show night, and in September, the doting mom shared a special daddy-daughter moment between the two.
Please fill in your e-mail so we can share with you our top stories!