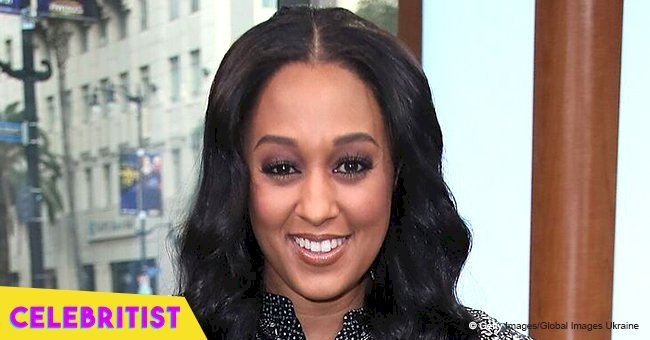 Tia Mowry steals hearts with photo of husband and baby daughter Cairo 'looking like twins'
"Sister, Sister" alum, Tia Mowry had the internet drooling with a photo of her daughter and husband and many people say they look like twins.
The close-up Instagram photo showed Cory Hardrict and his baby girl, Cairo, looking all cozy. Cory wore an NYPD hat backward and a pair of dark sunglasses, while Cairo looked cute in a sleeveless white outfit.
All eyes were on Cairo's chubby cheeks that could melt even the hardest heart. Tia revealed in her caption that the daddy-daughter duo paid her a visit for her first show night, but followers in the comment were more concerned with Cory and Cairo's resemblance.
They shared their thoughts in the star's comments section, and her fellow celebrities were not left out.
"Look at the cheeks. You just want to kiss them. She's gorgeous."- @felecia.mcneill
"Omg they are twins!!!"- @comiclonilove
"Okay first she look like her dad then she started looking like mom now she's looking just like dad"- @bug5404
This post comes after Tia thrilled fans with a photo of Cairo and Cory soaking up the sun last month, and another in July where daddy and his princess slept peacefully side-by-side.
MOMMY LOVE
Since welcoming Cairo in May, Tia has been keeping fans updated with her daughter's progress. She shares photoshoot images to celebrate the tiny tot's monthly milestones, as well as special family moments.
Earlier this month, Tia, 40, uploaded a picture where she was breastfeeding her five-month-old and wrote: "This Is Love." In July, she also shared a snapshot of her son, seven-year-old Cree, feeding his baby sister.
Even before Cairo was born, Tia made sure to share her pregnancy with followers, from the struggle with endometriosis to her preparations for Cairo's arrival. The latter included a nursery reveal video she posted in April, giving viewers a tour of where her precious child will grow up.
BABY WEIGHT PRINCIPLE
The "Tia Mowry At Home" host has also not been in a hurry to shed the baby weight, declaring, "if that takes five to six months to a year to feel like myself, then so be it."
Tia added:
"If I lose 5 lbs. here, then great. If I don't? Oh, well. I'm just really taking my time, and I really want to be an example out there for women, that it's OK if you don't lose weight fast or rather quickly. It's OK if you still have a belly bump. That's what happens. It's natural. It's normal. You don't have to kill yourself trying to get to some place that takes time. I'm about focusing on my babies and enjoying her growth."
Please fill in your e-mail so we can share with you our top stories!