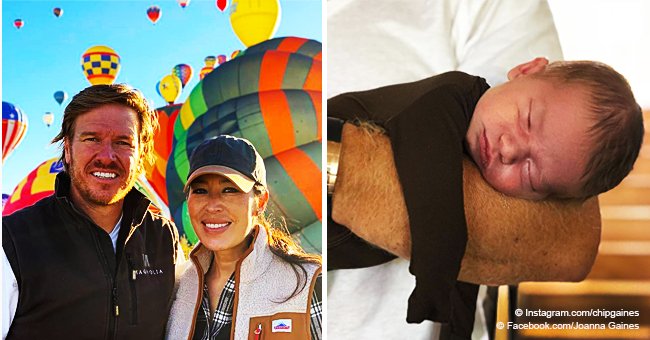 Chip Gaines announced they might try for baby number 6
Chip Gaines admits that the family might grow again, and welcome baby #6
October 31, 2018 12:30 PM
"Fixer Upper" couple Chip and Joanna Gaines became parents for the 5th time in June 2018 when they welcomed son Crew, reported People.com on October 31, 2018.
Baby Crew wasn't planned, but the Gaines are so overjoyed with their baby boy, that they may consider having another.
"Her dad made the mistake of putting a pic of the family behind the counter at his [automotive] shop. I knew I'd marry her one day just by the picture on the wall."
Chip Gaines, Bustle.com, January 5, 2018.
A MATCH MADE IN THE AUTO SHOP
Chip and Joanna's love story is unusual, The two met when Chip took his car in for repairs at her father's auto shop. For the two, it was love at first sight.
They married in 2003 and soon after the relationship moved beyond love into a joint business venture that would change their lives.
THE MAGNOLIA STORY ADVENTURE
The couple returned from their honeymoon and decided to start a business. Chip had flipped his first house in college, and Joana had a long-standing passion for design. Together they started a company called The Magnolia Story.
THE GAINES CHILDREN
Joanna, now 40, had her first child Drake Gaines, now 12, when she was 27. Ella Rose Gaines, 11, was born a year later, and two years after that came Duke, 9. Then came Emmie Kay Gaines, 7, and last but not least Crew.
Read more on Twitter Amomama USA.
ANOTHER BABY ON THE CARDS? JOANNA GAINES EXPRESSED SOME DOUBTS
Chip has revealed that he and Joanna might consider having another child, making the Gaines an 8 person family. The couple is considering the 6th baby because of the huge age difference between Crew and his 4 siblings.
"I think we have to have another one because I'm particular about the only child thing. Crew needs a sister to manage this whole thing out. Don't be surprised if No. 6 is in the cards!"
Though Chip is enthusiastic, Joanna has expressed some misgivings about a 6th pregnancy, admitting that her 5th pregnancy had been more difficult and more tiring than the previous 4:
"When I first got pregnant I kept telling everyone at the office, 'Guys, I am my best self when I'm pregnant.' And then, for whatever reason, I was limping into work and I couldn't breathe. At 40, it's definitely a little different."
ENJOYING BABY CREW AND GROWING THEIR BUSINESS
Joanna and Chip are as busy as ever, raising their 5 children and running their business. Since the end of "Fixer Upper" the Gaines opened a shop called Magnolia Market in Waco, Texas - and business is booming.
The Gaine's opened their first shop in 2003, but their focus then shifted to the show, and to hands-on decorations. Now, Joanna admits that she has returned to her first love:
"I developed and sharpened my design style and skills, grew as a business owner, and gained much-needed confidence in Magnolia Market and myself."
The Gaines will be moving Magnolia Market to a new and larger venue since the space they are in now has become inadequate to the growing business.
Will the Gaines also be moving into a larger home to accommodate yet another baby? Only time will tell.
Please fill in your e-mail so we can share with you our top stories!