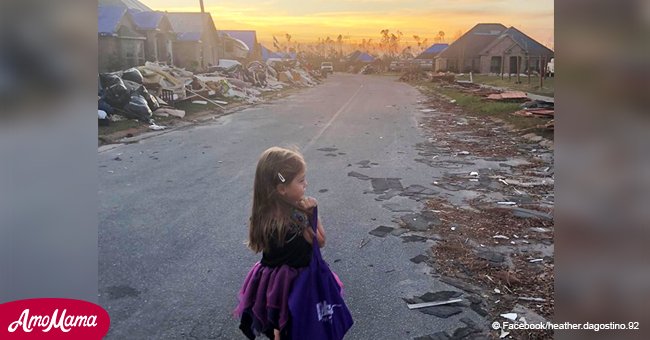 Family goes back to hurricane-stricken city to make sure 4-year-old can trick-or-treat
On October 10, Category 4 Hurricane Michael made landfall in Florida's Panhandle. The storm took the lives of at least 16 people.
In its wake, the hurricane left at least 1 million residents in Florida and Virginia without power and debris all around. After being evacuated, one family still wanted to celebrate Halloween for their children.
Heather D'Agostino Piddington and her family were evacuated during Hurricane Michael. When they got back to their community, they faced debris and destruction all around them.
Despite this, Piddington didn't want the storm to ruin her children's Halloween. She revealed when they got back and how she rallied other families saying:
"The military made us evacuate and we just got back Sunday."
For more on this story go to our Twitter account @amomama_usa. Piddington's husband is in the Air Force and is stationed at Tyndall AFB.
She is a teacher at the elementary school on the base. The mother explained:
"While being away in Alabama in a hotel I reached out to my neighbors via our neighborhood Facebook page to see who was around and interested in still doing Halloween."
To her surprise, many community members were keen on joining in:
"Many replied that they wanted to make Halloween happen for the kids."
The community scheduled the trick-or-treating event and Piddington took her daughters out at around 5:30 p.m. Describing the special moment, the parent said:
"My daughters sure got a lot of candy! The trash didn't even phase them."
She took a photo of her daughter, Alivia, 4, while the girl trick-or-treated in a witch costume. The image shows the street covered in debris and has since gone viral.
The children made the most of the moment and didn't care what their neighborhood looked like. According to Piddington:
"Every time they saw someone in their driveway, they yelled, 'Candy!'"
She revealed that some people decorated their homes and driveways while one person even put "orange lights all around their trash." The families weren't allowed to return to the military base until October 28 because it was deemed too dangerous.
Next time Halloween rolls around, parents should be aware of a few things that they need to check in order to keep their children safe. One of these things is to check if there are any sex offenders in your area before you let your children go out trick-or-treating.
Other tips have been outlined here.
Please fill in your e-mail so we can share with you our top stories!