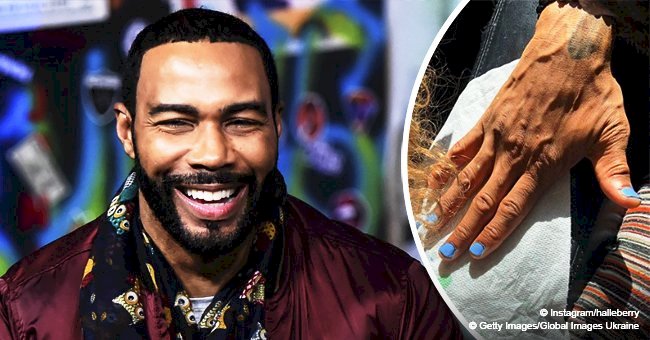 Omari Hardwick explains why his nails are sometimes painted in hearfelt photo with daughter
The family-orientated, Omari Hardwick reveals the secret behind his painted nails in the pic below with his daughter.
Hardwick has become known for always putting his family first. He has made many statements that defend and protect his family.
He once walked out of an interview with Desus and Mero on The Breakfast Club after defending his wife's honor. He felt that they had disrespected his wife after they made a joke he deemed inappropriate.
More recently he told a fan off after she demanded a picture with him while he was with his family. He later took to Instagram to pen a letter to his two children explaining his actions.
In the post, he assured his children that they will always come first. He drew a clear line in the sand, saying that he will only stay in the industry as long as he can put his family first.
HIS DAUGHTER:
The devoted father has a daughter with his wife. She has featured in many of his Instagram posts and the latest one had fans gushing over his parenting style.
He posted an image of his little girl painting his nails a bright blue color. The caption revealed that he had promised to spend every Sunday playing with her.
Whether it is tea party's or in this case painting his nails, the doting dad happily obliges his little girl and fans just couldn't get enough.
Many took to the comments section to express their thoughts on the precious moment.
I LOVE this! What an awesome example for other dads to follow! ~@a1908girl
OPENING UP ABOUT LOSING HIS FIRST SON
Hardwick appeared on "I Turn My Camera On with Lance Gross" where they delved into everything from health, loss, and family. He opened up more about his family in a recent interview.
During the interview, Hardwick told the story of how his wife and him lost their first son. After talking about the loss, he spoke about how much he loves his daughter.
"Man, I don't know about you, but when I come home from a long days work, seeing my daughter, man. It's like I don't care how long or how challenging my day has been, seeing my little girl puts me in the best place I can be."
THE REST OF THE FAMILY
Omari Hardwish is married to Jennifer Pfautch. The couple also has an adorable son who is younger than their daughter.
During the early stages of their interracial relationship, they faced massive backlash and criticism from Hardwick's fans. However, he jumped to his wife's defense and firmly put an end to the discussion.
He is quoted as saying, "This woman to my right has saved my life. You don't know the story."
Please fill in your e-mail so we can share with you our top stories!