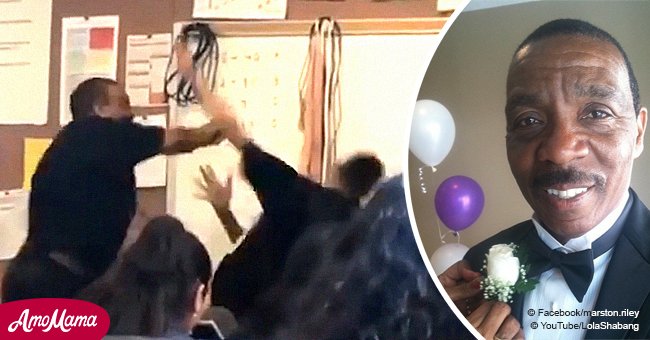 Shocking moment teacher gets into fistfight with student who taunted him with racial slurs
A music teacher lost his temper and ended up under arrest for hitting a student.
A California music teacher, Marston Riley, was arrested on Friday on suspicion of child abuse and causing great bodily injury to a child at Maywood Academy High School.
A video showed Riley, 64, repeatedly punching a student from his band who had insulted him and thrown a basketball at him, reported Daily Mail.com on November 4, 2018.
DISPUTE OVER UNIFORM TURNED INTO A MAJOR INCIDENT
Riley had allegedly asked one of the students in his band class to leave because he was not wearing a proper uniform
The student grew aggressive and verbally abusive, flinging racial slurs at the teacher, and telling him to "beat him up."
INCIDENT CAUGHT ON VIDEO
A student filmed the incident on his cell phone and rendered proof of Riley's repeatedly punching the teen and chasing him around the classroom, as the boy backed away trying to defend himself. Other members of the staff then entered the classroom and ended the dispute.
THE SECOND TIME THE TEACHER HIT A STUDENT
Curiously enough, none of the students filmed in the classroom were wearing band uniforms. This is not the first time Riley has been caught up in a dispute with a student. Last year he was caught on video allegedly punching another student.
Though some admit that the student was goading the teacher to the breaking point, others point out that as a teacher it is his duty to keep his temper and resist the obvious manipulation.
Riley has been released on a $50,000 bond and is waiting for the setting of a trial date.
TEACHER FIRED FOR DEMANDING THAT STUDENTS DO THEIR ASSIGNMENTS
Florida history teacher Diane Tirado was fired for refusing to give half-credit to students who didn't do their assignments.
Tirado who worked at West Gate K-8 School in Port St Lucie explained that the school has a 'no zero' policy, which means that teachers have to give students a minimum 50% on their assignments.
Since several of her students didn't hand in assignments at all, Tirado, 52, graded them at 0. When Tirado refused to attribute 50% to work that wasn't handed in, the school fired her.
Tirado left a handwritten message on a whiteboard for her eighth-grade history class:
"Bye kids. Mrs. Tirado loves you and wishes young the best in life! I have been fired for refusing to give you a 50% for not handing anything in. [Love] Mrs Tirado."
Tirado took a photo of her message and posted it on her Facebook page, where it went viral. Tirado's stand has brought the issue of "no zero" grading to the public attention.
Officials with St. Lucie Public Schools have denied that there is a district policy prohibiting teachers from giving a grade of zero. No specific cause was given for Tirado's termination by the principal at West Gate school.
Please fill in your e-mail so we can share with you our top stories!