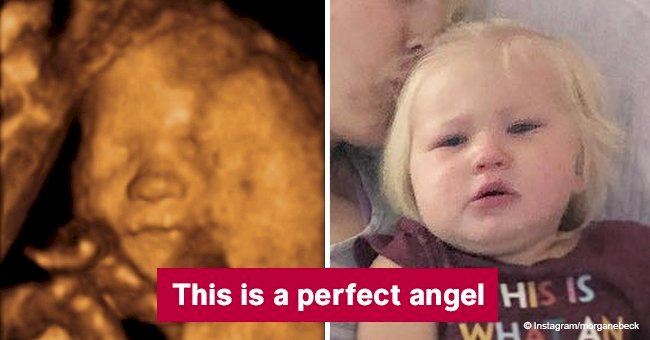 Ultrasound picture of baby boy shows an 'angel' image of his dead sister
The mesmerizing images captured on an ultrasound shows a figure holding and protecting their unborn baby.
Morgan and Bode Miller lost their daughter Emmy when she fell into a neighbor's pool and drowned on June 9, 2018, and was pronounced dead in hospital. The couple had another baby on the way, and Morgan recalls the medical staff urging her to check on her unborn son.
Reluctantly, after five days Morgan decided that the ultrasound tech should check on her baby. It brought back memories of her last ultrasound, during which Emmy was lying in her arm.
She asked that the tech work as fast as possible and declined a 3D picture, however after viewing the profile the tech wanted to take a 3D picture in spite Morgan not wanting one. She told Morgan that she felt the need to do one, and it was the perfect angle.
Morgan wrote on Instagram:
"As the screen switched over to 3D imaging. I saw this new baby, my eyes moved to the angel lying to the right of his face, holding him, arms around his neck. Almost as if to say, 'It's okay. I'm here. It's going to be okay. I love you'. I hold on to this picture as a clear sign that my son knows his sister. That my baby girl Emmy is still with us. And now that our sweet baby boy is here earth side, he now holds her."
The Californian couple welcomed their boy into this world on October 5, 2018, and her series of Instagram posts on November 4, paid tribute to her daughter Emmy, on what would have been her second birthday.
A similar image was captured in October 2014 when the couple Lindsay and Jon McHale went for a 4D ultrasound. The image clearly shows another face next to their daughter's face, and Jon even commented:
"I like to think there is a relative watching over Madison and we think the face looks a lot like my grandma Kathy."
Their daughter has told them of meeting an old lady in their family home, which only adds to his suspicions that his grandma is his daughter's guardian angel. And moving from the divine to the astonishing with a couple that saw the most astonishing on their baby's ultrasound.
Jennifer and her husband were expecting and had to start telling people as she would soon start showing, but they wanted to do it in a unique way. Little did they know the opportunity would present itself soon.
The couple went for her 14-week scan to check on the baby, and what they saw on the screen stunned everyone. The baby appeared to be clapping hands, quick thinking had them grab for their phones to record the clapping as the perfect way to tell everyone she is pregnant presents itself.
Please fill in your e-mail so we can share with you our top stories!