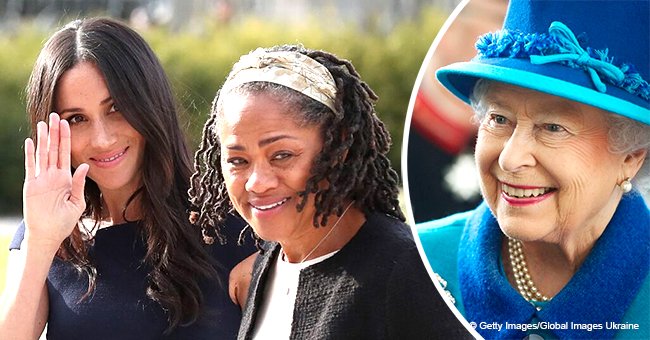 Meghan Markle's mom Doria Ragland reportedly invited to spend Christmas with the Queen
Queen Elizabeth has broken tradition again for Meghan Markle. Recent news reveal the Queen has invited the duchess' mother, Doria Ragland to join them for Christmas.
Meghan Markle should consider herself lucky or loved by the Queen to have prompted Her Majesty to break Christmas tradition twice. Last year, the Queen allowed Meghan to join her family for Christmas despite not being a royal yet. It's the first time a non-member of the royal family was asked to be a part of the exclusive gathering.
Now it seems Meghan's mother is getting the same courtesy. She's been invited by the Queen to join the royal family for Christmas in Sandringham. According to Vanity Fair, a royal source revealed that the Queen is aware of Meghan's complicated family situation and has extended an invitation to Doria. The thoughtful move allows Meghan to spend time with her only family member and her husband's family during the important holiday.
BREAKING TRADITION
This is the first time an in-law has been invited to Queen Elizabeth's favorite holiday celebration. Even Kate Middleton's parents were never invited to the affair in the seven years she's been the Duchess of Cambridge. The Middletons would often join the royal family during the Christmas morning church service but never at the dining table at Sandringham. They usually stay at Anmer Hall.
GAINING A FONDNESS FOR DORIA
Meanwhile, the Queen seems to have grown a fondness for Doria. An early sign was when she had tea with Meghan's mother prior to the royal wedding in May. A royal source reveals the "the Queen was very impressed by Mrs. Ragland when they met."
Anyone would admire Doria's silent confidence and poise amid all the family drama brought about by Meghan's father, Thomas Markle and half-sister, Samantha Markle. Throughout everything, Doria took the high road and kept to herself with the grace of a royal. She sat by her lonesome during Meghan's wedding but drew attention to her composed and dignified demeanor.
THE HOLIDAYS MADE SPECIAL
Meghan must be feeling blessed to be able to spend the holidays with her mother most especially because she's expecting her first child with Prince Harry. The couple revealed the news while embarking on a tour of Australia two weeks ago. The royal announcement disclosed the baby will be due in the spring and that Doria was "very happy" and "looking forward to welcoming her first grandchild."
Please fill in your e-mail so we can share with you our top stories!