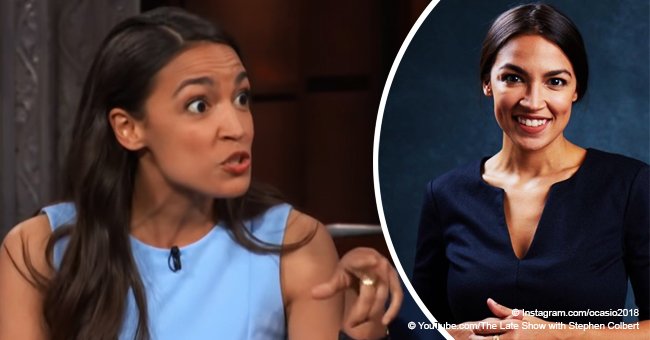 Alexandria Ocasio-Cortez, 29, has become the youngest woman ever to win a seat in Congress
The 29-year-old Democrat from the Bronx became the youngest woman ever elected to Congress.
Alexandria Ocasio-Cortez first made headlines five months ago when she defeated Republican candidate Joe Crowley at the Democrat primary.
Read more on our Twitter account, @amomama_usa. During her victory speech on Tuesday evening, Ocasio-Cortez thanked her supporters:
"This is what is possible when everyday people come together in the collective realization that all our actions … are powerful, worthwhile and capable of lasting change."
Earlier this year, Ocasio-Cortez still worked as a bartender with no background on America's political scene. She stepped up because her community needed her.
Ocasio-Cortez explains: "Our district is overwhelmingly people of color, it's working class, it's very immigrant ― and it hasn't had the representation we've needed."
The Bronx and Queens are some of the most diverse districts in the States, and it also helped that Ocasio-Cortez received an endorsement from former President Barack Obama.
Ocasio-Cortez won the district on merit alone as she refused to accept any PAC money, and she is already giving the far-right sleepless nights.
A Daily Caller editor said her demands for a living wage for Americans is "truly terrifying," and added that her ideas are populist.
Ocasio-Cortez said in an interview: "We're having an affordability crisis in New York City. We have a security crisis with our current immigration system, and I think I was able to allow our community to really feel seen and heard, and visited and advocated for."
The elections on Tuesday was a platform for women to shine and Ocasio-Cortez is one of several women elected to Congress and dead set on changing America's course on its path to destruction.
Standing firmly next to Ocasio-Cortez, is Democrat Deb Haaland, a member of the Laguna Pueblo tribe who landed an easy victory in New Mexico's district.
And the 37-year-old Sharice Davids, a member of the Ho-Chunk Nation, walked away with a seat in the Kansas's district, sweeping it away from Republican Kevin Yoder.
Please fill in your e-mail so we can share with you our top stories!