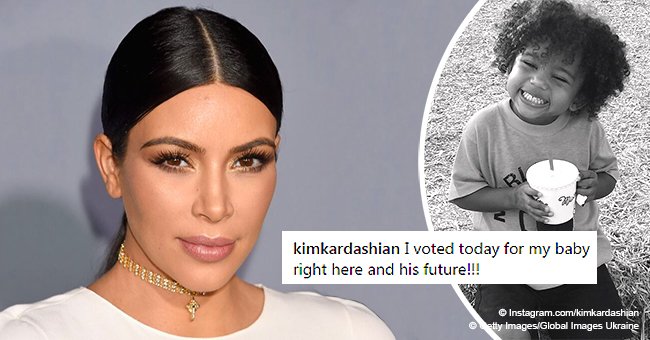 Kim K. gets slammed for forgetting 2 daughters while voting for son Saint's future on Election Day
Kim Kardashian, best known for "Keeping Up with the Kardashians" took to Instagram to share a black-and-white pic of her son, Saint, saying that he was the reason she voted.
In the post, the boy appeared wearing shorts and a shirt while flashing his beautiful smile at the camera and holding a cup in his hands. While the image was adorable, her followers didn't like the caption.
"I voted today for my baby right here and his future!!!" admitted Kim. However, people considered that she shouldn't have written that because she has two more children -Chicago and North West.
PEOPLE'S REACTION
"Why only for his future? What does that mean? Why not for all her kids? Super confused lol. Can someone enlighten me?" wrote one user.
"But what about your two other babies..." pointed out another one.
Several people defended Kim, though, saying that even though Chicago and North were not in the post, the reality star was also thinking about their future when she voted.
SIBLING RIVALRY
That controversial photo was uploaded soon after Kim revealed that there was some kind of sibling rivalry between her children. As Standard reported, the celebrity confessed that North often tried to stop Saint and Chicago from entering her room.
Kim added that North tended to act like an only child, showing jealousy and acting like if it was her world and only hers. North even told her mother that they needed to have another boy to the family to balance things.
ASKING FOR ANOTHER BROTHER
"She said to me the other day, 'Mum we just need to have another baby brother so that Saint can just leave me alone so the girls can be on this side of the house and the boys can be on that side of the house,'" Kim revealed.
It was not the first time that Kim was shamed over her parenting decisions. In late-October, she took to Instagram to share a photo of her and her daughter wearing matching swimsuits during their family trip to Bali.
ANOTHER CONTROVERSIAL PIC
Both of them looked great rocking their bikinis but, unfortunately, several people pointed out that Kim should not dress her daughter like that because it was not "age appropriate" and that she was "spoiling her."
Thankfully, a lot of followers defended Kim saying that there was nothing wrong about wearing swimsuits at the beach.
Please fill in your e-mail so we can share with you our top stories!